How Jarrod Plans to Retire in 5 Years
Jarrod is just like us…
He only has 24 hours in a day. Jarrod decided to stop trading time for money and instead started making his money work for him.
Real estate investing has always interested Jarrod and he knew it was his path to freedom. He started attending local meetings and networking with other investors online.
Then Jarrod jumped in…he actually turned his personal residence into his first rental property. He has a 5-year plan to acquire properties that will provide him with enough cash flow to cover his life expenses. Then he'll be able to retire! Jarrod will likely still work because he likes to keep busy, but it will be his choice.
Jarrod recently found a deal on MyHouseDeals he couldn't pass up. He worked with a wholesaler and negotiated a price that worked for both of them. This property, with a low rehab cost and a high equity, fits right into his 5-year plan.
Listen to our conversation with Jarrod to hear more about the deal he found on MyHouseDeals and his tips for new investors plus…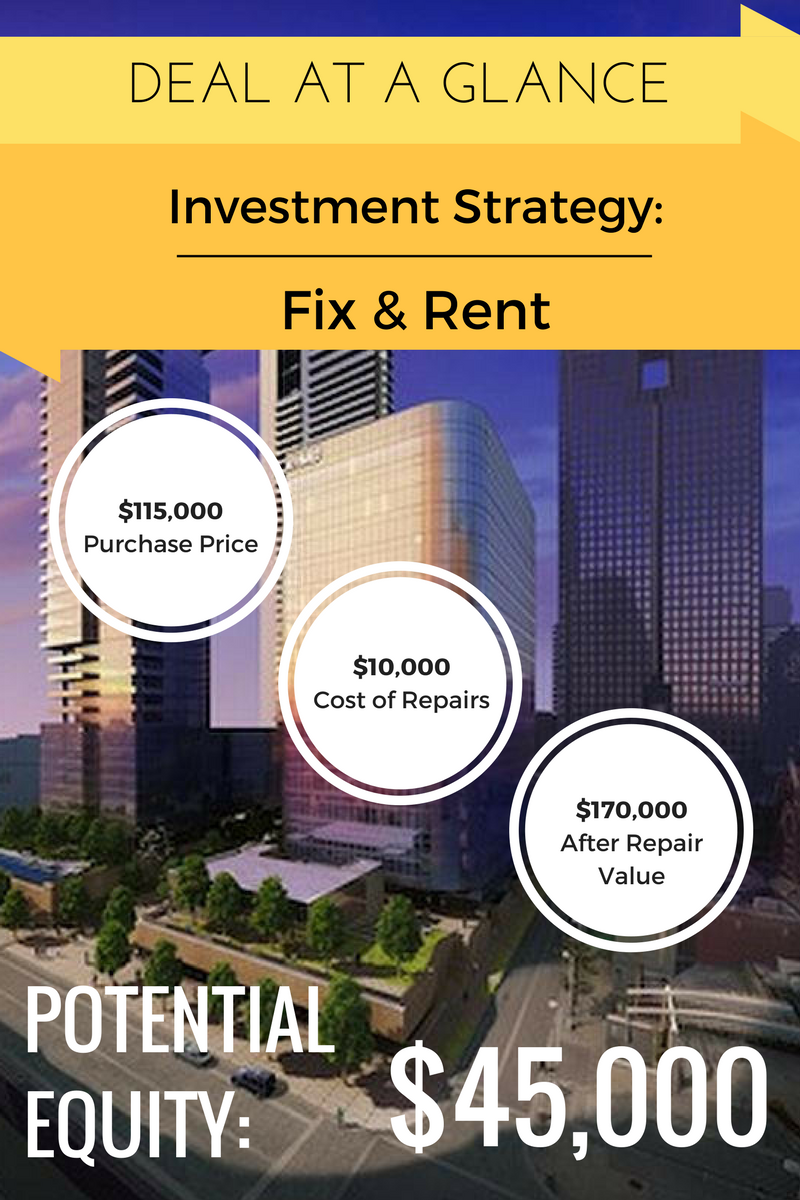 MyHouseDeals.com Success Stories
Why you need an investor-friendly Realtor

How to avoid fees with a hard money loan

How to find discounted properties on the MLS



NOTE: Jarrod Roecker is a premium member, he received a FULL refund of his up-front membership fee for simply doing a deal! Find out more about our premium membership here.

Tell us about yourself…
How did you get started in real estate investing?
I decided to get into real estate to make my money work for me. It was something that I always wanted to do so I started learning about it through BiggerPockets and local REI clubs. I actually started by renting out a house I already owned. I did that, then moved on and started buying other properties.
Do you plan on becoming a full-time investor?
Right now I'm still working as a property adjuster, but my goal is to eventually have all passive income and do this full time. Unfortunately I haven't been able to quit my day job just yet, but I actually like what I do. The issue is that I'm trading my time for money and I only have so much time.
My game plan is to do 3 houses a year for 5 years, with an average cash flow of $300 per property. If I were to do that I would essentially have about $5,000 in monthly passive cash flow. That covers my bills and I wouldn't have to work.
That being said I'd probably still work because I like to stay busy, but it would probably just be in real estate. I've been doing this for about a year and a half and I'm up to my 5th deal now. They're all cash flowing on average $500-$600. Some are a little higher, some a little lower, so I'm getting almost double $300. I might be able to retire in a couple of years.
How do you manage your time between investing and a full-time career?
I'm fortunate in what I do. I'm an independent property adjuster so I work on a per-storm basis. When there's a hurricane or storm companies call me and ask me if I want to take the job. If I want to, I do. If I don't, I don't take it. There are times in the winter when I have a slower season with my day job, so I have more time to concentrate on more extensive investment projects. That's how I balance that.
I have a contractor who is also a real estate investor who works with me. He keeps an eye on things for me when I'm on the road.
What deals have you done so far?
I've done 5 deals so far and 2 of them are currently under rehab. For me, doing 2 at a time is a big step and I don't necessarily want to take on a third one just yet.
Like I said, I already owned the property for the first deal I did. It was actually my personal residence. I was on the road most of the year for work so I had a house that was just sitting empty. I did a little rehab to it and started to rent it out.

I found my next deal on the MLS in a neighborhood I was familiar with. It can be hard to purchase on the MLS because there's a lot of competition, but this property was in awful condition. There was fire in the back and the inside needed a lot of repair. I paid a little bit more than other investors probably would have, but I knew the neighborhood very well.
I remodeled everything and made it the nicest house on the street. The neighbors love me and I have great tenants in there. It actually worked out really well. Not only did I have that house, but there's a 650 square foot building behind it. I opened it up to the street and now I rent it out as storage. I'm cash flowing really well on that property.
Tell us more about the deal you found on MyHouseDeals…
How did you find this deal?
I look at deals on the site every day and I came across this one. I called on it and was actually fortunate to reach a wholesaler who is fairly new in the business too. He has been wholesaling for the same amount of time as I've been investing.  We connected on that and I was able to negotiate a good price.
This was a smoking deal in my opinion. It had a really low rehab cost and a high amount of equity. I've actually been tempted to flip it just to have some cash, but I really like the house and the neighborhood.

Tell us about your investing strategies…
What's your core strategy right now?
I've been acquiring buy-and-holds as of now. Wholesaling and flipping are fine, but those are "one and dones." If you're able to buy and hold you have a tenant paying off the mortgage and giving you cash flow every month. In time that house might be worth double when you want to sell it down the road.
Eventually I'll likely do some fix and flips and wholesaling. I'll do the fix and flips to get cash and wholesale the deals I find but don't necessarily like or have the capacity to work on at the time. If the right opportunity comes along, I'll either wholesale it or find another way to get a piece of the pie.
How do you choose where to invest?
I started out in middle to lower-class neighborhoods. I think there's value when you go into a neighborhood that has some ugly ducklings and you fix them.
The neighbors will actually start seeing the houses change and think, "Well I don't want to have the ugly house on this street." They fix theirs and it has a ripple effect. It's great. You provide a nice home for somebody and it brings the whole neighborhood up.
How do you finance your deals?
On my first property I used hard money and did the rehab within 6 weeks. After that I refinanced it and it has been cash flowing really well.
For one deal I just paid for the rehab out of pocket because the lender charged a fee each time you made draws. I understand the reasoning behind that, but I wanted to avoid paying every time I requested additional money. Luckily I had enough to do that and I got my money back at the end of the deal.
Overall, I understand that hard money provides an opportunity, especially for people just getting into the business. You pay for that opportunity, but hopefully as you move along you can find more creative options or less expensive ones. That's what I'm moving towards as I build my track record and my empire. Once lenders see that I'm not new at this maybe one will work with me more as far as rates and points go.
How do you keep your rehabs on track?
At this point I'm acting as a general contractor. I always get a few bids on each thing that I want done. Then, it's a little bit of experimentation to see what contractor is going to come through. Sometimes it's a pain. Lately I've been babysitting contractors. Here in the Dallas/Fort Worth market they are so busy that they'll leave your project to do another project.
I keep my costs down by not hiring a general contractor and basically coordinating everything myself. But with that comes your time and your stress, so you just have to do what works best for you.
How do you optimize your cash flow?
I think it has a lot to do with the current market conditions. Here in Dallas/Fort Worth there isn't a very large supply of housing available so rent has been skyrocketing. I have a property that I rent for $1,300 a month that probably would have rented for $700-$800 five years ago.
On the other hand, it's much harder to get deals on properties and you have to pay a little more than you want to. The 70% rule is great, but it's closer to 80% in this particular environment.
What are your tips for finding properties on the MLS?
I would say to build a relationship with a good real estate agent. The real estate agent I found, who I actually found on BiggerPockets, has rental properties as well and she's familiar with dealing with investors. If you can find an investor-friendly real estate agent, that will really help.
I found my real estate agent after I referred a roofer to her on BiggerPockets. It turns out she's from my area so it just worked out really well. Everybody has something to offer, so I offered her something that was good for her and now she helps me find deals on the MLS.
What advice do you have for newer investors?
The main thing is to make an offer and do something. Most people have plans but they never do anything about it. Even if you fail, try. You'll learn your lesson and you'll make a better decision the second time.
Just jump in there and do something. Go to several REI meetings and get online. Join BiggerPockets and invest time in MyHouseDeals. MyHouseDeals is really ideal for investors because you find off-market properties that aren't on the MLS and those off-market properties have less competition.
Don't just keep thinking about it wishing that someday it will just happen. Until you put your hook in the water you're not going to catch anything. Be willing to take a risk. Obviously, know what your risk level is and how much stress you can handle because there is stress involved. But just go out there. Even if you do something wrong, you're going to learn a lot and you'll know what not to do next time.
I would just say formulate a plan and execute that plan. Tweak it as you go along, but ultimately just take action. Get off the sidelines and take ownership of your empire. Start building that empire one house at a time.