Patrick Upped His Earning Potential: Here is How He's Done 3 Deals in a Year
Like a lot of investors…

Patrick searched and searched for deals on the MLS. He put in a ton of offers. He fought against a lot of competition… And nothing. No success in finding a deal. He knew he had to go where others weren't. 

Enter… MyHouseDeals. Patrick quickly found a deal, ran the numbers, and jumped on the rehab.

His career as a Realtor even contributed to the success of this deal. Patrick recognized the property street address because a he sold a house there several years back. He immediately knew he found a great deal in a great neighborhood!

Patrick is driven by this mindset: I can not lose money on a deal.
This helps him make calculated decisions when it comes to deals and rehabs. He plays it safe and always gives himself a higher margin for unexpected costs.
Listen to our conversation with Patrick to hear more about the deal he found on MyHouseDeals, how he got into real estate investing, and his tips for new investors plus…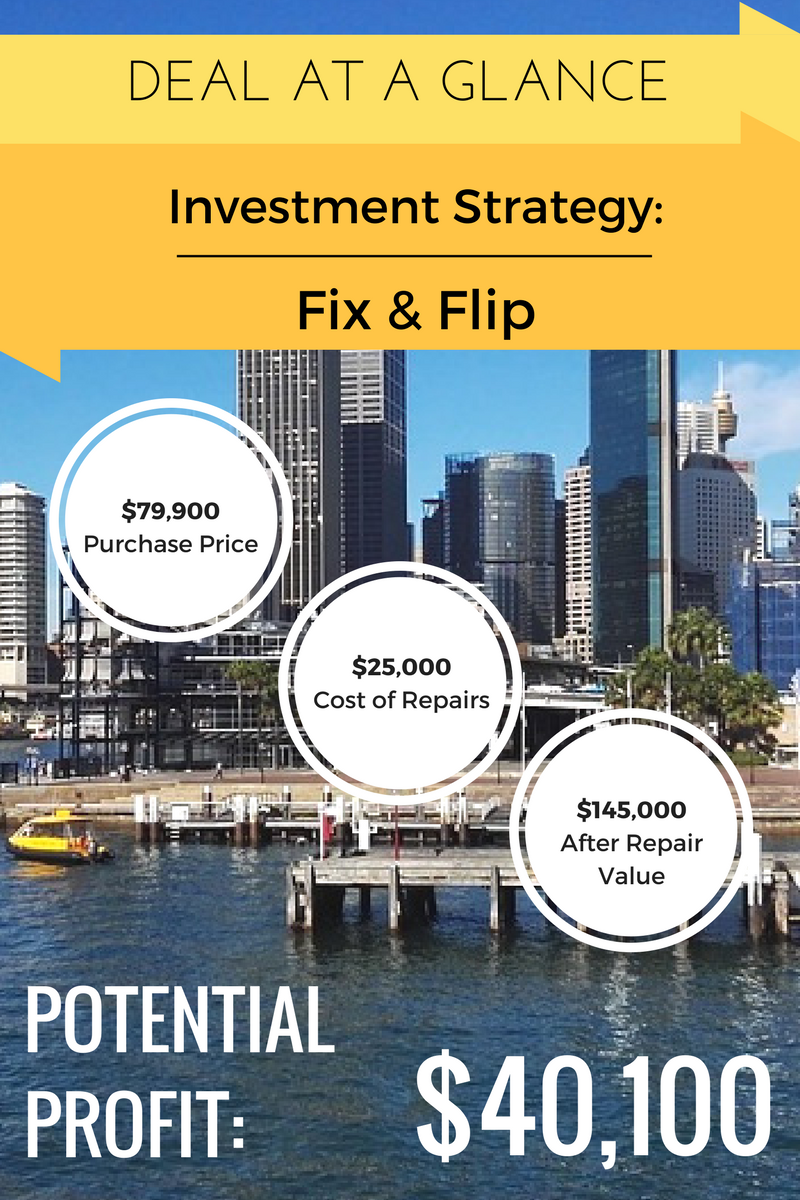 MyHouseDeals.com Success Stories
How to avoid pitfalls when pulling comps
Advice on the best location to find a deal
How to make your deal the highest quality property on the street
NOTE: Patrick is a premium member, he received a FULL refund of his upfront membership fee for simply doing a deal! Find out more about our premium membership here.

Tell us about yourself…
How did you get into real estate investing?
I'm a licensed real estate agent and I've been wanting to do it for awhile. I've been looking for properties through the MLS and put in a ton of offers. There was a lot of competition so I didn't get anything for awhile.
I found a deal a year and a half ago. Since that one I was having a difficult time finding something else. I was trying to think outside of the box and go somewhere new to find investment property deals. I Googled wholesaling and then ended up coming across the MyHouseDeals site. That made it much easier to find deals—especially ones I can fix and flip.
What appeals to you about being an investor?
Two things. Number one was money or the profit potential. My father was an investor and he did extremely well with it. Also, just being on my own, calling the shots, and not having to work with clients.
Now I'm about 98% full-time investing. I don't do much with my license anymore, but if I have past clients come back to me I'll work with them.
Tell me about the deals have you done so far?
Right now I'm just focusing on rehabs. Maybe in the future I'll hold some rent properties, but right now I'm just rehabbing.
I've done a total of three in about a year or less. The first was the one I sold back in June, then there's the one I got through your website and I just closed on another one on Friday.
What is your financing strategy for your deals?
My strategy has been using personal funds so far. I just make sure to be really careful with my money and cheap. Don't let your wife spend it all on vacation! As a Realtor sometimes you have a good month and sometimes you don't make anything, so we have always been careful.

Tell me about the deal you recently found on MyHouseDeals.
I knew the street because I sold a client a house there about six years ago. I went for it because I knew it was a decent area.
The properties I look for need to have three or more bedrooms. If it only has one full bath I always see if I can add a half bath somewhere either on the first floor or the basement.
The numbers for this deal were pretty good, but I noticed you have to be careful. You have to watch out for some properties because some numbers can be skewed. The ARV feature does help though.
What are some tips for making sure that your comps are accurate?
I pull almost all of of my comps from the MLS. Sometimes I look at tax records to look up something that perhaps wasn't on the comps, but I try to keep it as tight as possible. I know how to make adjustments and variations in the properties and come pretty close just from my years of experience. So, I know how to eyeball things and get a good estimate for repairs on the property.
Have you ever made a significant error in your estimates in your repairs?
Not yet. I've always taken into account that there's going to be something you can't see or that will cost you later. I go into it with the thought that I can not lose money on it. While, I miss out on a lot of deals because of that, I need to know that I'm safe.
I do different things to make sure the deal is safe. First, I run the numbers and give myself a higher margin for mistakes in case I discover something new as I go along. On my last property, I thought I was going to have to replace a second floor and exterior deck. I was thinking it would cost anywhere from $5K to $15K and that's a big spread. So, I try to take the worse case scenario and calculate things from there.
What are some tips that you would give to newer investors?
The difficult part is hiring good contractors. Getting them through referrals is your best bet for success.
As a Realtor I was selling bank-owned properties, so I would meet the guys who were rehabbing the houses for the banks. While doing that I got to know couple of them and we ended up working together.
Are you still using personal cash to finance your deals?
So far, but if I pick up any more properties then I'll need to do some funding. I'm hesitant about hard money loans because I don't like the interest rates, but if the deal is good I'd consider it.
What's your strategy for selling fast?
I look at a lot of rehabbed properties and I see how cheaply they've been rehabbed so I try to make it better than the competition.
The one I sold in June had a contract after only three days of listing. Unfortunately, the deal fell through but I had another contract just two days after. Everyone commented on the quality of the workmanship.
I always make sure I buy in a good location by a highway where people can commute easily. With my properties I look out for good school districts, convenience, and location.