$25k Profit: How Timothy Mastered These Investing Strategies…
Just consider Timothy a jack of all trades in real estate investing. With over 20 years experience in real estate, he is not slowing down. He is building a Houston investment property portfolio, flipping houses, investing in real estate notes, and is involved in apartment and commercial real estate. Timothy currently works in the technology field while he builds his real estate business for retirement. Once he acquires 10 to 20 properties he will shift to investing full-time.
Timothy knows that one of the biggest challenges in real estate investing is… Capital. His financial strategy has changed and evolved over the years, and currently takes advantage of his 401k and a self-directed IRA to fund deals. Timothy can hardly contain his excitement about his latest real estate investing adventure: Note investing! He shared how this strategy works and his plans moving forward.
Timothy's most recent deal was a straightforward flip. He bought, rehabbed, and sold the property in six months. His specific buying criteria and connection to a good contractor helped make this a successful deal with a $25k profit.
We recently sat with Timothy to learn more about the deal he found on MyHouseDeals, his motivation to be a real estate investor, and his future plans.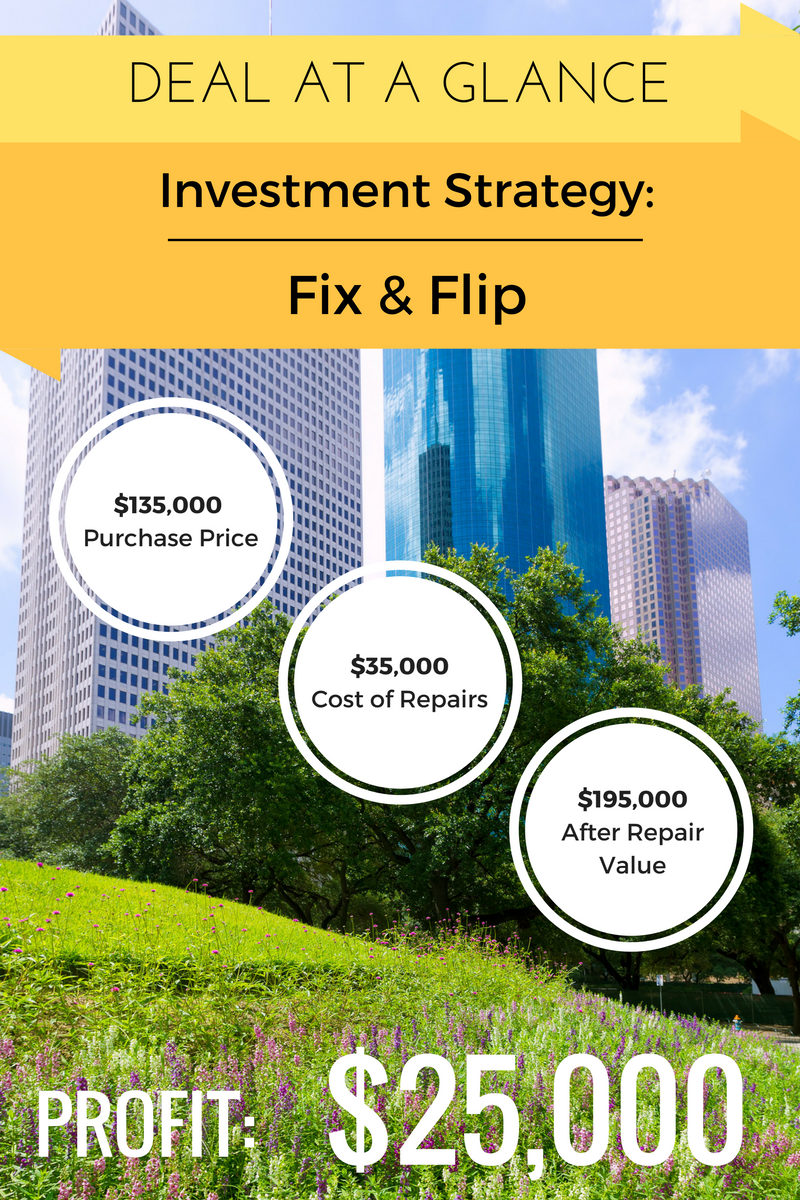 Listen to our conversation with Timothy during which he talked about this recent deal, plus…
MyHouseDeals.com Success Stories
Why you should consider a self-directed IRA for capital
How to get started in real estate note investing
How to establish business credit to fund deals
NOTE: Since Timothy is a Premium Elite member, he received a FULL refund of his up-front membership fee for simply doing a deal! Find out more about our Premium Elite membership here.

Tell Me About Yourself…
How did you get into real estate investing?
I've been involved in real estate for over 20 years. I had a broker's license 20 years ago, and I got into real estate because I was in the mortgage business, and in California you had to have a real estate license to be in the mortgage business.
About 15 years ago, I made a career change from real estate and the mortgage business into technology. For the last 15 plus years, I've been in technology and now I'm looking to get back into real estate. I do have a California realtor's license, so that's one reason I'm back into it.
Also, my son lives in Houston, TX and he is in the real estate industry too. I have boots on the ground in Houston, and then I guess the third reason is that I'm looking to build a investment portfolio of real estate for retirement purposes.
What made you transition from real estate before into technology?
Technology was hot at the time, and so it was good opportunities with steady income, and I had a family at the time. It offered a steadier income and opportunity.
How do you plan to build up your portfolio?
One of the things I did was convert my IRA to a self-directed IRA. Another one is by using IRA funds.
Tell Me More about this Deal…
What were you looking for when you found this deal on MyHouseDeals?
The intention was a flip. This deal  was a flip because the price was right, so there was enough equity to justify a flip, and it was a newer house in a relatively good area. I chose the property because of the location, numbers, and age of home.
What did you do next?
It turned out that the rehab was a little higher than I thought, but the purchase price was a little lower. It's kind of complicated, but the numbers were close, but the rehab was a little higher than I thought. You have to do your own due diligence on MyHouseDeals.com. The ARV needs to be vetted out and you have to be comfortable with the repair cost.
What was complicated about the purchase price?
It was a VA tax loan, but it was with the Federal Farm Bank or something. I don't remember the exact agency. It was a loan through a government farm agency. Through this agency, if you sell the house before a certain period of time, they have the right to basically charge an escrow impound balance. They want to avoid people using this program…
Which is what I did, but the owner of the house did not do it. The owner of the house was in a divorce situation. It was sort of a desperation sale, so she wasn't speculating. She just had to get out of the house and move on with her life. For whatever reason, the penalty was not assessed, so I did not have to pay that. That was like a $5,000 bump in my direction.
How did you initially estimate the repairs and what unexpectedly popped up?
I used my son's company. His company is called The Fargo Company. They do rehabs and new construction and repairs, so I basically hired The Fargo Company, and they went in and they did a preliminary look before I bought the house, but we had limited access to the house because the owners were still in it. One of the expenses that was a little higher than we thought was an air conditioning unit issue that caused some water damage. It wasn't extensive, just some water damage.
How did you finance deals when you first got into real estate investing?
My investment has always pretty much been my own house. The biggest challenge that many people find is capital. In my early days investing, I didn't really have a lot of capital to work with, so I bought houses owner-occupied, and then flipped them or exchanged them and so forth. I was mainly investing through my primary residence in the early days. For the last, I'd say, one to two years, I've been using a 401k as capital as well as my personal funds, and as well as starting to borrow funds. One of the things I'm doing now is building and establishing business credit in order to fund these real estate deals.
What are the benefits of establishing business credit?
I haven't done this yet, but I'm currently in the process of establishing business credit in addition to personal credit. My goal is to be able to establish business credit that's basically non-recourse, or not guaranteed personally, to limit my liability. I didn't do it on this property, but that's one of the things I'm doing now. The other thing I'm doing now is I'm able to find non-recourse money for an IRA. That's kind of tricky because if you buy a property with your IRA money and you take a personal loan, and then you use your IRA money for a down payment, the IRS is concerned about you, and won't allow you to personally guarantee a loan for your IRA.
How do you get around that?
I found a lender who does non-recourse loans to an IRA. They will lend strictly on the property with no recourse to me as an individual. By doing it that way, then I can actually get the loan in the name of my 401K, and then I can leverage my 401K funds.

What are you currently doing to leverage capital for deals
?
First, I'm using a combination IRA funds and personal funds. Number two, I'm using non-recourse lending from my IRA to leverage those IRA funds. Number three is working with hard money private investors and then number four is establishing business credit. That's my four-prong strategy going forward.
How do you stay focused on your plan/strategy?
One of the problems is that I am sort of all over the place a little bit, because I'm also a realtor in California and I'm focusing on apartments and commercial buildings. Yes, I've got a lot going on. This is my plan, but at some point what I find is you really have to focus on what works for you. If you get too shotgun all over the place, then you're doing a little bit of everything and not focusing on one thing. That's one of my challenges now, is to really kind of take all this and hone in, and focus on my plan, then really leverage that plan going forward.
Has your quality of life changed at all since getting back into real estate investing?
Not financially. I have not hit that critical mass. What I've seen in this, it's easy to dabble in real estate and in wholesaling and all this. Yes, you can make some a smart, good investment, but they're not really life changing. What I'm seeing is, to make this your living, you have to hit a critical mass. You have to do so many transactions per year, especially if you're thinking of leaving your day job, to hit that critical mass. I feel like I have a plan in place, but I haven't yet hit that critical mass.
How many hours a week are you working on your real estate business?
I'm doing both consulting and real estate, so when I'm consulting I'm focusing 40 hours a week on that. Right now, for the last probably couple of months, I've been doing 100% real estate.
Do you have investment properties in the city where you're living now too?
Yes. I also invest in real estate notes. Actually, this is a good topic. I'm very interested in real estate notes. Notes are a great way to invest in deals. But there are more pitfalls with notes. You have to really know what you're doing with notes.
What is your advice for someone who wants to invest in notes?
I just jumped in and kind of learned by trial and error, which I think the real successful people tend to do that. The problem is, I've made mistakes through the learning process. There would be two ways to get started in note investing: One is just to jump in with both feet. The other way would be to work with a note broker or a reputable company. There are a couple out there. It's like buying retail v. wholesale.
If you're getting into real estate for the first time, I'm not sure I'd recommend going to MyHouseDeals and just buying the first house you saw without knowing what you're doing, right? You might want to work with a wholesaler who's reputable and then instead of trying to find out 30% equity, be happy with your 15% equity, let the wholesaler make some money and have a safer experience.
I'd recommend the same thing with the notes. Do your due diligence and work with somebody who knows the process. With the notes, I've set up a company called Note Partners. Note Partners is for my my note buying business. I'm also doing that with my son, but we're eventually going to get into brokering notes and providing notes for resale.