Real Estate Investing Gave These New Investors Freedom AND Abundance [Walter and Wavie's Story]
Sometimes two is better than one…
In Walter and Wavie's case, this is definitely true! The uncle/nephew duo recently teamed up as real estate investors and haven't looked back. They just did their first deal…a great start to building a successful real estate business.
Walter and Wavie are at different points in their lives and have different motivations, but one driving theme bonds them as partners… Freedom and abundance. They want to own their time and real estate investing allows for that.
Walter and Wavie used their first deal as a true learning experience, which set realistic expectations for these new investors. From negotiating with the seller to financing the deal and managing the rehab, Walter and Wavie learned that there are always surprises…and they are not always bad!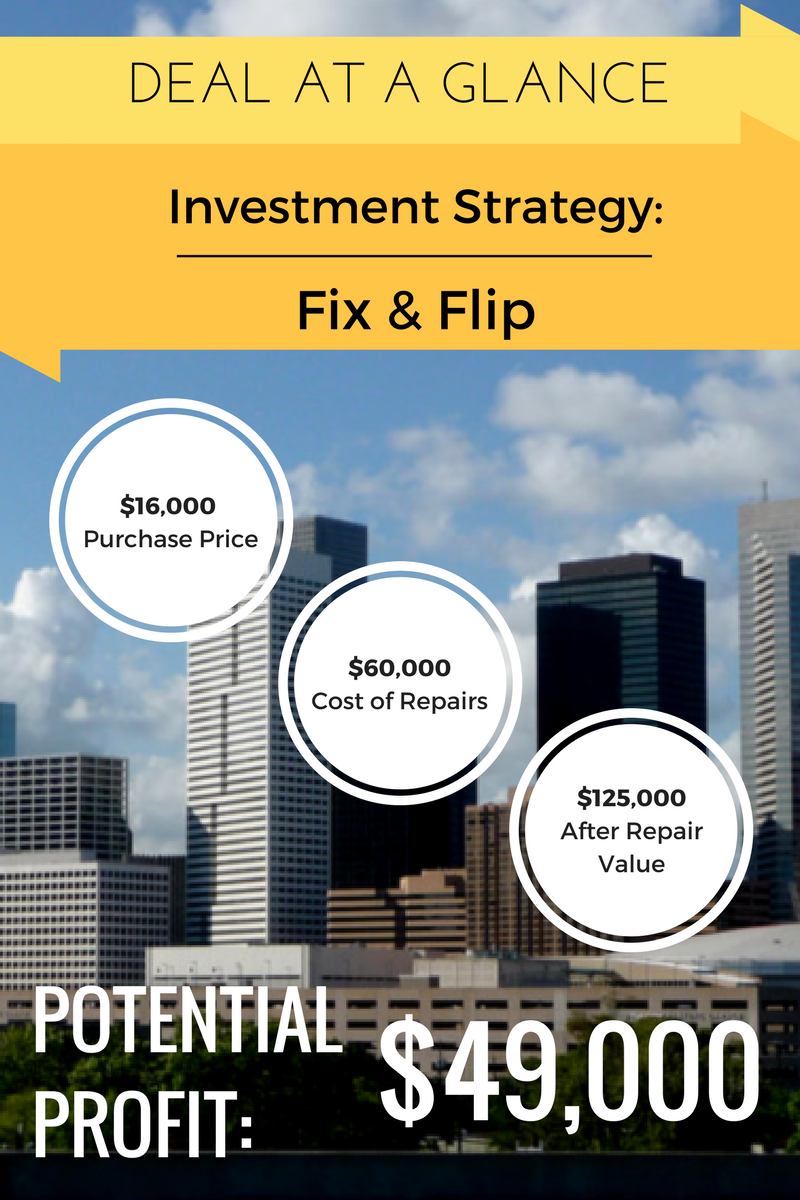 Listen to our conversation with Walter and Wavie to find out more about the first deal they found on MyHouseDeals, lessons learned, and their future plans, plus…
The surprises to look for during a rehab

Unique criteria for finding a deal

Why you should consider using a self-directed IRA to fund your deal

NOTE: Since Walter is a Premium Elite member, he received a FULL refund of his up-front membership fee for simply doing a deal! Find out more about our Premium Elite Membership here.

Tell us about yourself…
How did you get into real estate investing?
Our story is very interesting. I used to work overseas and when I came back I was looking for something to do. My Uncle Walter and I started remodeling my mom's house and that sparked my interest in small construction. While we were working on my mom's house I thought, "If we can do this here, then we can do it elsewhere too."
We attended seminars on real estate and listened to the gurus talk about real estate for years, but it took a while to get something to really push us into the real estate game. We finally got that push when when we came together.
As individuals we knew what we wanted to do, but it wasn't until we came together as a team that we finally pulled the trigger and got into a deal. Then, I found this house on MyHouseDeals and that's what really got us started in the right direction.
What do you like about real estate investing?
Freedom and abundance. I have more time now to spend with family and friends, and the freedom is really irreplaceable. It's not that I want to be my own boss, per se—I just want to own my time and real estate provides that for me.
For Walter, who is already well set up for retirement, real estate provides a way to make quick money that he can leave behind someday for his family.
What's your real estate investing strategy?
We actually have 2 strategies we'd like to focus on. Flipping is one of them, but we'd also like to buy and hold at some point. It's just about reaching a point where we've built up enough residual income to be able to buy and hold.
Tell us more about your first deal…
What was your criteria for the deal?
Initially we sought out properties that had good bones, with pier and beam foundation, so the leveling process would be a little easier. We tried to keep our price range between $20,000 and $60,000.
For our first deal we also wanted something where we could take our time and do a remodel together. We didn't have a specific time frame to finish the project. Basically, we used it as a mechanism to learn the real estate industry and find reputable contractors we can work with.
We also looked at the electrical, plumbing, and HVAC of different properties. To be honest we didn't have a lot of knowledge about the numbers for those areas, but if they had the electrical and they had HVAC that was a plus. If they had a window unit then we knew we needed to account for it.
What was it like to work with a wholesaler?
It really wasn't too difficult to work with the wholesaler. We called the guy and he gave us a number, but we got him down to the number that we wanted. The wholesaler basically wanted to get rid of the property so he agreed to take our offer.
I think we were lucky to have this part of the process be pretty much free of any problems. When we got the house we were really excited about it! It was our first deal and I still call it my baby! It was hard to let go of the property in the end because that house really felt like it was my baby.

How did you finance the deal?
We actually used Quest IRA—a self-directed account. Uncle Walter and I rolled over our 401(k)s into self-directed IRAs and bought the real estate through that.
We paid out the account in a form of cash without any financing. All the proceeds from the construction had to go through the project manager, then the proceeds from the sale go back through the Quest administrator. When you do it this way, there's never any liquid cash in hand, but the money gets put back into the account at the end.
Everything went well with the IRA, but anything we did to the property had to meet the government's requirements. As the fiduciaries, we we were responsible for ensuring that we met all the requirements.
Tell me more about turning your 401(k) into a self-directed IRA…
For me, it was a bit of a roller coaster. It was full of ups and downs. I think for Uncle Walter it was less chaotic. He had a reputable contact for Quest. On the other hand, I had never heard about self-directed IRAs and I didn't know how it was going to work. I just had to believe in what Uncle Walter was saying.
He and I went to get information about it twice and I was still a little hesitant. But our money was just sitting there and it wasn't doing anything for either of us. The 401(k)s were basically losing money.
Eventually Uncle Walter rolled over his 401(k) and then I rolled over some of my 401(k). I figured it wouldn't hurt just to try it. I think it's one of the better decisions that I've made and I think we could repeat this method on the next project.
Did you have any surprises while flipping the house?
Yeah, a whole bunch of surprises. Picture this: an inexperienced construction worker, by himself, made the decision to try to remodel a house. A guy with no experience. What kinds of surprises do you think he'd come across? A lot.
First off, we had some surprises related to the plumbing and electrical. Those things were a doozy, mostly because of our lack of experience. There were things we overlooked, like something as simple as putting insulation in the attic. The inspector came along and said, "Hey, where's the insulation?" Surprise!
There was also a lot about the permitting process that we didn't know. We took the right steps and got everything permitted, but the requirements changed throughout the process. When the requirements change, the code is updated. The inspectors would come back and throw in something else that we needed that we didn't know about. There were constantly surprises.
Some of the surprises weren't major, and some of them weren't bad surprises. For instance, we put in a new driveway and it actually added value to the house!
Obviously those things caught us off guard, but I don't think they are anything to be upset about. The mistakes and surprises are what helped shape us into who we are today. After all, this is a learning experience. We can share those surprises with other people and do better in the future, you know?
What was the biggest lesson you learned?
Have a scope of work—find someone who is experienced to clarify the process. Sit down and have a good conversation with someone who's been through this before. I think that would have helped us a lot in our situation.
The biggest thing I learned personally is to fix the outside first, not the inside. Start by fixing and repairing the foundation. Once you fix and repair the foundation, you've solidified the roots of the entire project.
If you're doing foundation work make sure you identify if the plumbing is on a slab. Moving a concrete slab can make the joints in the plumbing come loose. You don't want the plumbing underneath the concrete to crack and leave you with another major problem. Then, move on to fixing the roof. Go from the outside in and everything will fall into place.
On the inside, check the electrical, the HVAC system, and the plumbing. Don't just look at these things and eyeball them, but actually get them inspected by a professional. Ensure that the main drain to the city line is not clogged. Most people don't look at the main drain, but the city will actually come out and check the main drain for free. Always inspect the big-ticket items because they're the things that keep you safe.
Was it easy to sell the property?
We listed it with a real estate agent and it took about 33 days before we got a buyer. We negotiated with the buyer based on the inspection and an appraisal that she got.
The beautiful thing is that we got our full asking price with closing costs rolled in. This shows that the house sold for a little bit more than the actual offer.
The house will close in the next few weeks, so we're pretty happy. We learned a lot during our first deal and I think we're better prepared to move on now.
Let me just say how thankful I am for MyHouseDeals. They got us our first deal and I'm very excited about that. I'll probably be with MyHouseDeals as long as I'm in real estate. I think it's a great tool that we can use to look for other wholesale properties in the future.