Walmart Manager Turned Successful Real Estate Investor [Chip's story]
Chip came to a fork in the road…
He had to make a decision. With his family's well being in the forefront of his mind, he took a big leap of faith…
He decided to leave his full-time job and become a real estate investor. Chip did his research and attended classes. He was lucky to find a mentor to guide him in the beginning, and he just jumped in. Chip made $38,000 on his first deal!
At this point, Chip has about 7 deals under his belt and his business just keeps growing. He continues to build his investing portfolio and wants to reach the point of passive income from these properties so that his wife can retire.
From a manager at Walmart to a full-time real estate investor, Chip's life has changed a lot. He took control of his finances and of his life. Chip took a chance and hasn't looked back. It's really just the beginning for him and his investing career.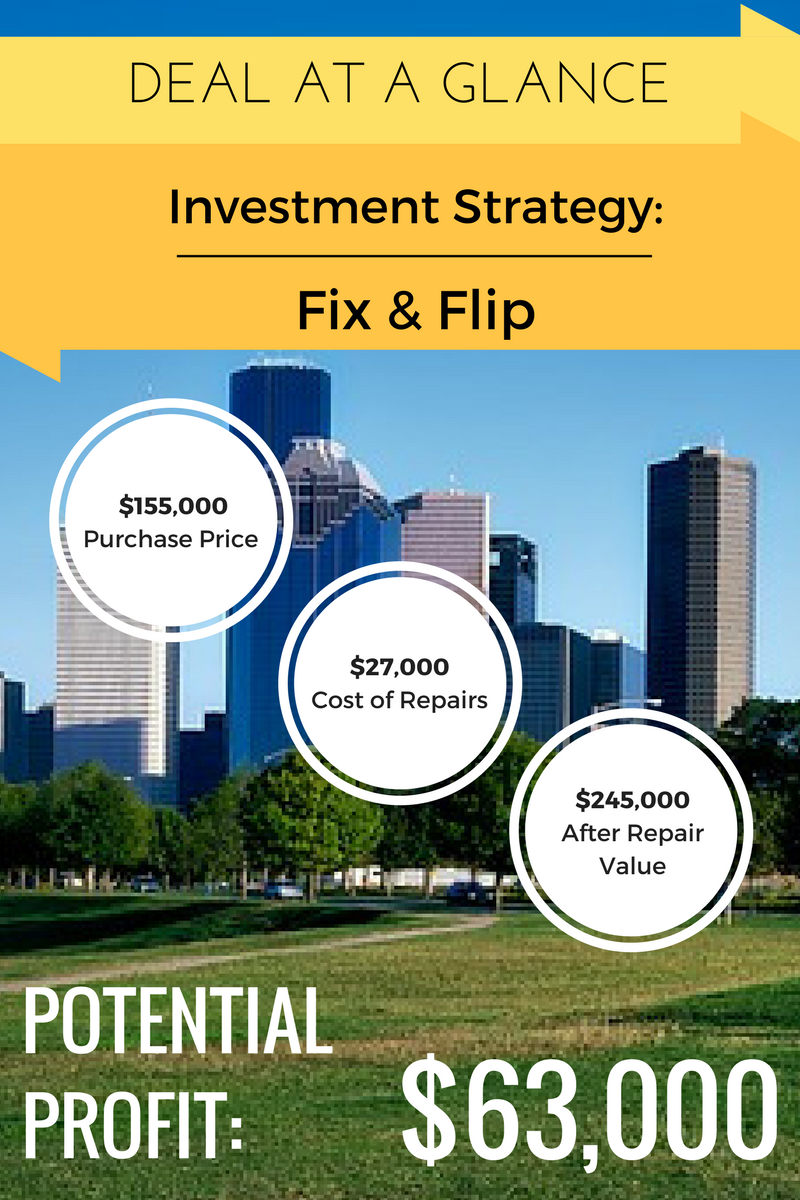 Listen to our conversation with Chip to find out more about the fix and flip deal he found on MyHouseDeals, his criteria for a potential deal, and his plans for the future, plus…
What you should never do during a rehab

Why hard money may be your easiest funding option

Why you should always just make an offer
NOTE: Since Chip is a Premium Elite member, he received a FULL refund of his up-front membership fee for simply doing a deal! Find out more about our Premium Elite Membership here.

Tell Us About Yourself…
How did you get started in real estate investing?
I used to work as a manager at Walmart, but I got tired of all of the ups and downs of the job. It was important for me to find something that would allow me to have more time at home. I finally quit my job just before my first deal. My wife was stable with her own job, so she said "let's go for it," and we took the leap.
How did you find out about real estate investing?
Online, as well as fix and flip shows on TV. I went online and did a lot of research on what was being done, and then I did research on sites that had investment properties for sale. I also took a couple of classes.
Tell Us More About Your Deals…
How did you find your first deal?
I was constantly looking at different websites for leads and lead generations and I came across MyHouseDeals. I was actually a free member for about a year before I decided to pay for a premium membership. Around January I paid so I could get the premium leads earlier.
I looked at three or four properties and when I ran the basic numbers the math worked out for one of them, so I thought I might as well go look at the property. When I walked the house I was really shocked because it was very nice and there were about five investors there. I looked at it, asked all the questions I needed to ask, and the numbers still added up.
I offered him what it stood for and he actually said, "Sure. That'll work." I left three times—went out to my car three times—thinking, "do I really want to pull the trigger on this?" I finally decided, no guts, no glory, and I went back in and said, "Okay, I'll take it."
How did you finance your first deal?
I saw the house back in August, but the owner said he couldn't close until November. I told him it was no problem, but then I just had it sitting there. It cost me a $100 deposit for escrow money, and I started thinking that maybe I could wholesale it.
I listed it with Northwestern and they basically sold it for what I was asking. So, I turned around with a $38,000 profit by wholesaling it, which I was able to use for my next deal and for advertising.
What is your plan for the deal you found on MyHouseDeals?
I'm doing a rehab on it. It wasn't in bad shape other than the fact that the owner's wife painted every room a different color, so it just needed a few cosmetic adjustments. It needed cosmetic repairs, paint, flooring, and a remodel of one of the bathrooms, so it put me at about $28,000 in repairs.
Luckily, it hasn't needed any major repairs other than a leak in the roof from a hole about the size of my thumb. They thought it might have been a bullet that was shot and fell through the roof. My construction crew took care of it with no problem, but I was definitely surprised to see a hole through the roof all of the sudden.

Is there a consistent construction crew you work with?
Yes, I work with a very good crew who never charges me extra for the problems they come across. Every time I find a property I get it bidded out to see who will give me the best deal, and this crew always comes through with the best price and quality. I was looking for someone who could be long-term and someone who wanted to actually do a lot of work, because my goal is to have at least one house a month.
What is your advice on finding good contractors?
I would say that finding a good crew is basically trial and error. You should remember that cheapest is not always the best. It's important to find someone you have a rapport with. Like I said, it just turned out that the team I found has been right for me, but you do have to go through a lot of them before you find the right people.
What's your preferred financing strategy?
I do hard money. I like it because it's easy and I don't have to ask or beg people for money. When you start dealing with private money there's a lot of hand shaking and kissing babies and I'm just not into that. I get a deal, my numbers works out, and I need my funding.
My hard money lender works well with me and gives me about a 3% cut from his normal interest rate because I've done a lot of business with him. I'd love to win the lottery and be able to fund everything myself, but that hasn't happened yet.
What's your current investing strategy and your long-term plan?
Right now, it's wholesaling and flipping and then holding for rental property. I currently have three that are assigned. I have two that are in rehab and five or six rental properties. I'd like to get enough buy and hold properties to give me a residual income so my wife can retire and we can do other things.
What is your criteria for a deal?
I'm looking for a good deal, but I try to stay under the $200,000 range. As far as the properties, I don't want anything that was built in the 40's or 50's. I look for properties from the 70's, 80's, and 90's in fairly decent locations, like suburb areas. Places where the rehab doesn't scare me off, and where the numbers work out. The areas I like to avoid are downtown and all the old neighborhoods because they usually have higher crime rates and such.
What is your advice for new investors?
For the rehab on the property, don't cut and trim costs to try to save a few thousand dollars here and there. I mean, don't cut corners to save costs just because you think someone won't accept the offer. If you do this, you're going to lose money every time. I was that way when I went to that first deal, thinking there was no way someone would accept it, but I'm staying true to what I learned.
It's also really important to just make an offer. Even if it's a little bit below the asking price, you'd be surprised at who will say yes. Most people see a high asking price and they don't even want to call about it, but really you just need to get started. With my first deal, I thought there was no way anyone would accept the numbers I threw out. Sure enough, I got a call two days later. It's the same with the offers you make for your own properties. The house I flipped was worth $260,000, but I threw out the offer for $290,000 and someone accepted it. The worst thing someone can do is say no, and if they do, you just adjust from there.
One more thing—if at all possible, get a mentor. Find someone who's willing to help you, because it can be hard to get started. I had a mentor when I did my first deal, which helped me a lot. Having a mentor to make sure your numbers are in the right ballpark helps a lot until you're savvy enough to do it on your own.