Robin Reveals This SECRET to Fund Deals
Robin wanted ONE thing a lot of us want…
He wanted to earn a LOT of money.
So Robin researched the quickest ways to make a ton of cash…
Turns out being a real estate investor is a much shorter route to making boatloads of money than becoming a lawyer! Even though Robin ran into some barriers, his continued persistence and optimistic attitude make him the successful real estate investor he is today.
He's been in the real estate game for a while now and has mastered the art of funding…by using other people's money! Robin is very creative about his funding and investing strategies.
Robin lets the deal drive the strategy. He knows that if he wants a deal, someone else will too. Robin will either fix and flip a property or wholesale it… And he relies on his big network of investors to drive which strategy he uses for each deal.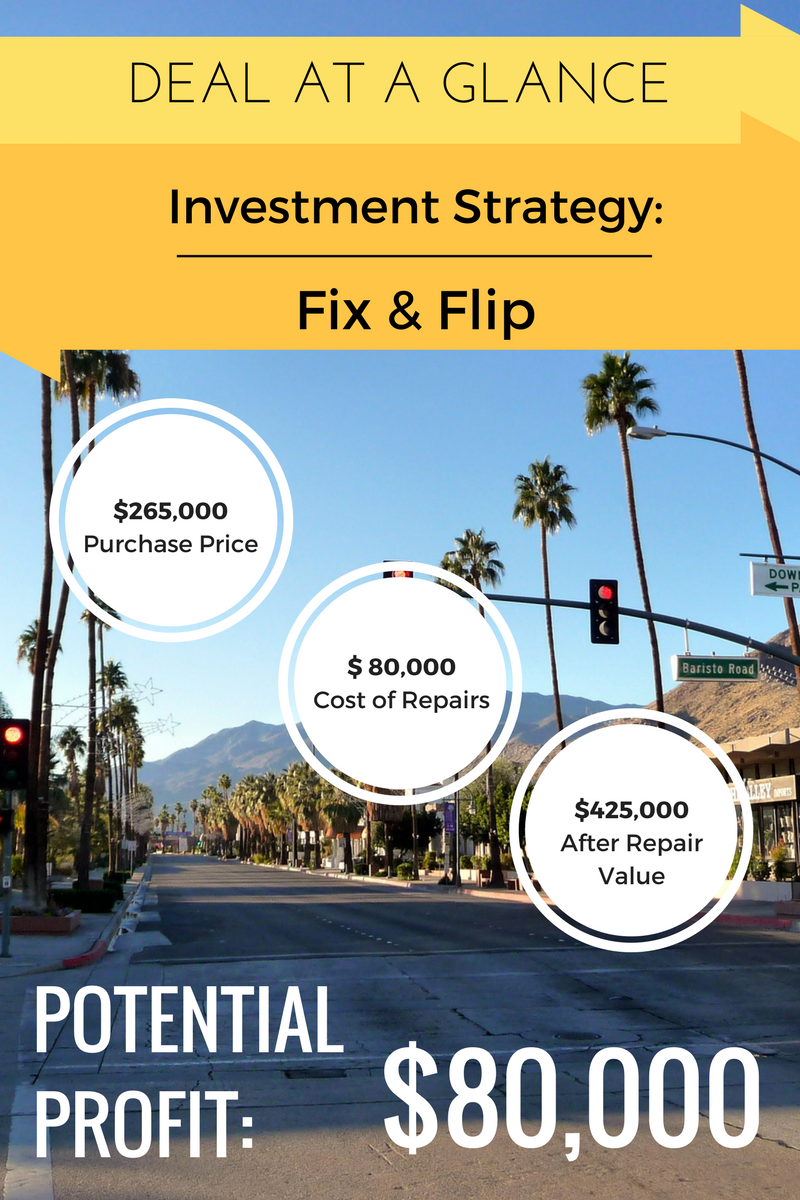 Listen to our conversation with Robin to hear about the recent deal he found on MyHouseDeals and his unconventional approach to real estate investing plus…
MyHouseDeals.com Success Stories
How to use no money down financing for a deal

How the power of networking leads to success

Tips for investors just getting started
NOTE: Robin Herndon is a premium member, he received a FULL refund of his up-front membership fee for simply doing a deal! Find out more about our premium membership here.

Tell us about yourself…
How did you get into real estate investing?
I started out as a real estate assistant in 2004. A year into that I pursued getting my license as a Realtor, but things didn't pan out the way I planned. I passed the exam, but for whatever reason was not eligible to obtain my license. I was told to wait for two or three years.
At that point, if I were to practice real estate, I was left with no other choice but to be creative. My mentors, who were the brokers I worked for at the time, encouraged me to be diligent. They allowed me to use their license to take on listing agreements and to be able to represent prospective buyers.
I started researching how I could buy houses with no money down or how I could leverage other people's money in order to buy real estate. By 2006 I started pursuing it on my own. I was trying to put properties under contract while also continuing to network with other individuals. My main goal was to let them know that I had assets for sale.
Less than a year later I was wholesaling contracts for a dollar. That's how my journey began in real estate investing.
What sparked your interest in real estate investing?
Prior to real estate investing, I was in sales. I worked for a company called Aaron's Furniture. This gave me the opportunity to meet a lot of different homeowners because they would come in and choose furniture.
Occasionally, I would go out to the properties to deliver their furniture. Sometimes I would even give them my opinion on what kind of decors they should have in the house. I was just so attracted to the exterior and the interior of the properties.
A good friend of mine just so happened to be a real estate agent at the time.
After being laid off, my friend encouraged me to pursue realty as a profession. He would say, "You're real good with people. You've got a thing for decorating and décor. You should try getting your real estate license."
Had he not pushed me to reach higher, I may never have gotten into this.
I had to really figure out where I wanted to be career-wise and what path would allow me to make the kind of money I was expecting. You always hear that people who work in real estate do very well financially. I figured since it didn't take long to get educated, I'd try my hand in it.

Tell us about the deal you found on MyHouseDeals…
How did you come across this deal?
I went on MyHouseDeals looking at doing some wholesale deals. There was a contract holder who was representing the wholesaler. The property was in the city of Fontana, practically in my backyard, but the owner lived in Texas.
I was looking at it to turn around and double wholesale it, so to speak, because I was in close proximity to the property itself.
When I first submitted an offer of interest to the owner via email, she told me that it was going into escrow and it was about to be sold. So I told her, "Let me know if it doesn't work." About a week or so later, she replies with, "Yeah, it fell through. They're not moving forward. Are you still interested?"
I called the owner after that and I asked, "What's the scenario?" She said, "I'm way out here in Texas and I'm just trying to get this done. I'm getting ready to throw my hands up and I'm not going to deal with the property."
I replied with, "I'm interested in prospectively buying it, but if it doesn't make sense, I'll just wholesale it to somebody in my group. In the event that it works out, I'll look out for you and give you some money at the end." She said, "Don't worry about it. I'll just set you up with the seller."
The rest is history.
How did you finance your deal from MyHouseDeals?
I went to another colleague of mine and said, "Hey, I can give you a little bit of return so you can put some money up in escrow. I'm going to negotiate it to where you won't lose money in the end at the close of the escrow."
The wholesale buyer put up $10,000 which was non-refundable, so I used that as part of the down payment. I just worked it out with the seller so that at the close of escrow, all the money that we put down had to come back. It required no money down in that sense.
Can you tell us more about how to achieve no money down financing?
I would think no money down financing can be equivalent to seller financing. If you're dealing with a contract holder, you can almost always arrange it to where the seller becomes the bank, so to speak. You just maintain the payments, whether you're going to fix-n-flip it or turn around and wholesale it to somebody else. In essence, that would equal no money down financing.
You can also request that a private money lender or hard money lender do 80% of your loan. Then the other 20% can come from the seller. In essence, you're not putting any kind of money down. No money down can be achieved by using other people's money.
I would say don't hesitate on asking for a lender, a private money broker or an institution to handle the majority of the financing.
If they really want to sell, they'll agree to the terms.
What is your "golden nugget" advice for newer investors or people trying to grow their business?
Always stay optimistic in your endeavors and be diligent. There's nothing wrong with being honest and transparent.
When it comes down to the numbers, call it like you see it. Don't take no for an answer, but by the same token, be tactful.
When one deal closes, keep pushing toward the next opportunity.
Is there any other advice you would like to add?
No, not much at all except that I appreciate MyHouseDeals. If it wasn't for MyHouseDeals, I wouldn't have scored that great deal a month ago. So thank you guys for having your platform available.