Use the "BRRR Method" to Fund Your Next Deal: Find Out Exactly How
While Stan worked his regular full-time job about 10 years ago…all of a sudden…

He had a lightbulb moment… The kind of lightbulb moment that changed the course of his finances and his life!

Although his work with leases was not real estate related, he realized there was profit to be made from people paying to live in someone else's house. It wasn't long before he acquired his first rental property.
Stan read everything he could find about real estate investing online and in books. He attended investor meetings in his area. BUT, the best decision he ever made was to find a mentor.
The knowledge and experience he gained from working with a mentor made all the difference in his success. After his first transaction, everything got easier.
Now with a full buy and hold portfolio and 9 fix/flip deals under his belt… Stan makes the most of this retirement. He calls real estate investing his "hobby." It's definitely a hobby that puts profit in his pocket and secures this financial future.
Listen to our conversation with Stan to hear more about his past 10 years of investing experience, the deal he recently found on MyHouseDeals and his tips for new investors plus…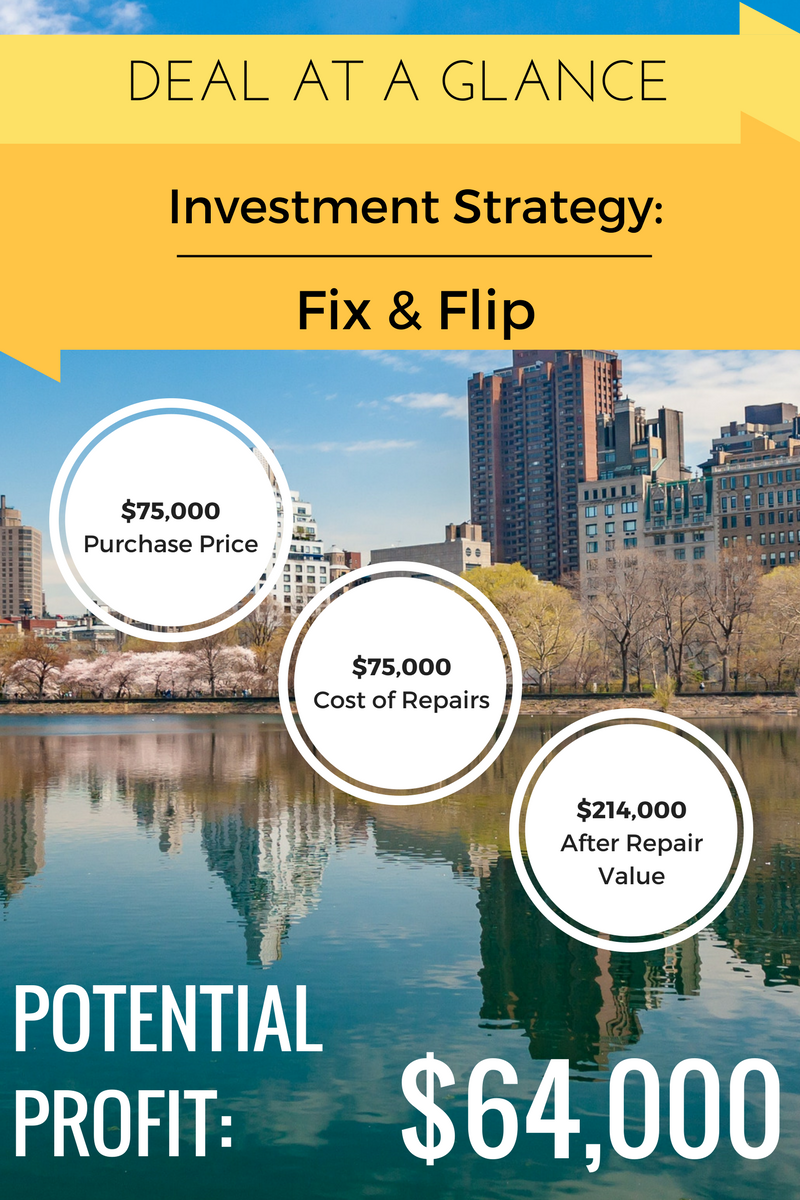 MyHouseDeals.com Success Stories
The quick 2-step process for pulling comps

How to use the "BRRR Method" to finance deals
The benefits of working with a mentor
NOTE: Stan is a premium member, he received a FULL refund of his upfront membership fee for simply doing a deal! Find out more about our premium membership here.

Tell us about yourself…
How did you get into real estate investing?
In 2009 I started out in real estate investing as a buy and hold investor. For about 5 years I just did buy and hold deals and really enjoyed it. At the time, I was working so those kind of deals made sense to me.
In the last 18 months I've gotten into the flipping side of things and completed 9 deals in total. I recently retired in December 2016, but I still do real estate. It's become my full-time hobby now.
What inspired you to get started?
My last job involved me having to review leases for others. It wasn't in real estate, but it exposed me to the world of leasing. With that process I realized occupants were paying others to live in a house they didn't own.

I just never put the two together. I owned a house, but never thought about the renting side of it. The houses weren't worth what they were renting for so I knew there was money to be made. That intrigued me and I starting studying real estate.
I had a full-time job at the time, but it wasn't too hard juggling that alongside real estate investing. I made time for it and made it a priority in my life. As a buy and hold investor I was able to pick and choose if I wanted to get in or not.
How did you set yourself up for success?
I did a lot of online reading and bought a ton of books. What really helped me was having local mentors who specialized in rentals. With my mentors I was able to get the guidance I needed. They helped me get started and once I completed my first buy and hold transaction I was at ease and more confident.
Then I got involved with local investor groups to network. Researching, having mentors and associations are the reasons I am where I'm at today.
How did you finance your first deal?
My first buy and hold was strictly done on my own. I used what's called the "BRRR Method."
It stands for: Buy, Rehab, Refinance and Rent.
I used a line of credit and some savings to buy my first rental property that was less than $50K. The process for that was buy, renovate, place a tenant, refinance out of it, and then move onto the next deal.

Why did you decide to get into flipping?
Buy and hold was for long-term wealth and it brings in a small monthly cash flow. On average you can pay them off in 20 years and get full cash flow because those properties are leveraged. I wanted larger chunks of cash flow and the only way to do that was through wholesaling or flipping.
What do you wish you did differently in the beginning?
I would approach contractors and financial management differently. I should have never deviated from my scope of work despite what others were saying at the time.
Also, I would have kept the first flip I did simpler so I could be in and out in 3 months. It took me an entire 9 months instead. It was a 3 bedroom/1 bathroom property that I was talked into flipping. I added square footage to it by adding bedrooms. That in turn got me more money, but it also brought construction delays and incurred holding costs.
I got a mentor when I started wanting to flip houses back in 2012, but it was a failure. I knew I needed more guidance if I was to get into flipping again. The second time around I wanted to do it the right way so I got another mentor for help.
Tell us about the deal you did on MyHouseDeals…
What were you looking for?
That was one of the first deals I did with my new mentor. I was looking for a flip project and found a perfect deal that was only a mile away from my house.
The deal sorta fell right in my lap. It was an investor-ready foreclosure. The same day I found the deal, I got ahold of the agent and went to view the property.
What are your parameters for flips?
The parameters I look for are a 3 bedroom and one bathroom property. It needs to be in a neighborhood where it can sell quickly. The deal I found on MyHouseDeals fit the criteria and ended up being better than I thought it was. We added on a finished basement with a half bath and it gave the property more square footage. That allowed us to get to the top of the pricepoint in that area.

Did you run into any surprises?
The only surprises were at the end, but it was very minimal. We stayed on budget and only ran into a sewage problem. Luckily it was outside the house and not in.
I would recommend that you get the water turned on and actually running so you don't have the same issue. Test all of your drain pipes to make sure you don't have blockages.
How do you run the numbers on a property?
Some people might laugh at this, but I always research the days on the market and comparable sales in the area. My quick assessment contains 2 parts: The first is to check the sales prices versus the estimate. If that falls underneath the "70% Rule" meaning the asking price is 70% or less of the estimate, then I'll do some further looking.
Secondly, once I do more digging the numbers usually get better and more defined. The areas I look into I always have a baseline of familiarity. Then I  look at the asking price versus what the assessed value is. I'll do further searching if they aren't quotes or the assessed value is much higher than the asking price.
What advice do you have for your younger investing self?
You have to save money. Make sure you get a mentor and stick with a mentor. Definitely focus on continuing to build a portfolio and the flipping processes.
I would do my reviews differently like I do them now. Once I do the initial review I go into further comp analysis. Not every property qualifies for that time-consuming second part, but that's my quick and dirty way to qualify a deal. This saves a lot of time too.