How This New Investor Got 12 Offers on a Fix and Flip
"Make sure to check everything!" This is what Abu did while fixing up his Dallas investment property. And this is exactly what he advises new investors to do as well.
When Abu lost his job suddenly, he didn't let it get him down. He used the opportunity to JUMP into real estate with both feet. He joined MyHouseDeals, started checking out properties, and ended up finding success on his very first deal!
Before Abu finalized his first deal, he learned everything he could about real estate investing. He read books, watched many YouTube videos, and taught himself to understand the market and the numbers.
We recently sat down with Abu to find out how he prepared himself to start investing, his advice on inspecting houses, and how to save money when doing repairs.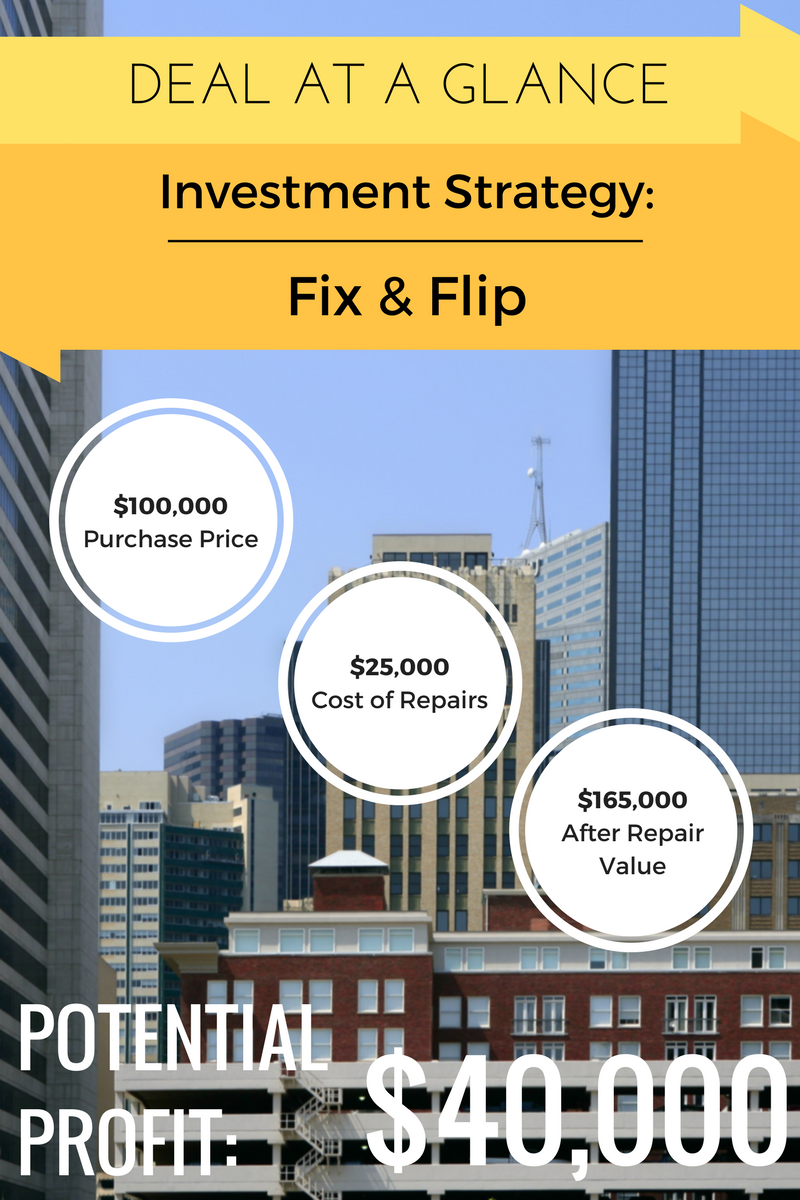 Listen to our conversation with Abu during which he talked about his first deal, plus…
MyHouseDeals.com Success Stories
Items you should NEVER overlook when rehabbing a house
How this investor perfected flipping houses that sell quickly
Why you need to do an inspection before AND after a rehab
NOTE: Since Abu is a Premium Elite member, he received a FULL refund of his up-front membership fee for simply doing a deal! Find out more about our Premium Elite membership here.

Tell Me About Yourself…
How long have you been doing real estate investing?
Actually, I just started in June of last year. I am already on my fourth deal in six months.
How did you educate yourself?
I was really passionate about getting into the real estate business, flipping houses especially. And I have been studying materials online and for last year or two during my job. I'm an engineer by profession. And then, recently I got laid off so I thought this would be the best thing to do.
I have a passion. I've been in business before, a rent portfolio of two houses as well as buying and selling businesses. I thought maybe I should get into real estate. I didn't want to get tied down to a little business, with headaches overseeing employees and running day to day operations. I thought this was, at my age, one of the most entertaining things I could do. And invest my money and enjoy it.
How did you research your first Dallas investment property deal?
I was watching YouTube videos, and I was on BiggerPockets, RE Club, and all those things. I didn't want to go to any expensive seminars. I went to a seminar about ten years ago and it did not give me any knowledge. But this time I just used my due diligence. I began reading a couple of books, surfing the Internet for information, searching the MLS and then I became successful in locating houses, low-cost houses from MLS. Then I went to a wholesale company which really coached me and helped me go through the first deal.
Tell Me About the Deal….
Where did you find this Dallas investment property deal?
I wanted to buy a house where commuting time would not be over 30 minutes from my house. I just bought it and thought, well, I have to do something. It was a wholesale deal and I could not really negotiate the price since there were other buyers behind me. So I grabbed the deal.
I looked at the house and it seemed okay. I mean, there were a lot of flaws here and there of course. And so I just said I have to do something. I don't have a job now, so let me do something. I took the courage and took this house and everything went fine from there.
I had some hiccups with some contractors not doing their job right. You have to be very careful. General contractors cost too much money, so I was using sub-contractors and it was very time consuming. By doing this I saved money, but it was a lot of things that I had to do. I had to go observe their work and tear them up and stuff like that. But in the end, I did okay.
Are you just doing flips right now?
I am just doing flips right now. I want to get as much equity as I can in my bank right now and then I'll start building a rental portfolio maybe after six months to a year. And I'm enjoying flipping houses because I did a good job flipping three houses and getting good offers on them.
I've got a crew now. A reliable crew which does my work in the mentioned time and price and so I'm lucky in that. That's why I'm progressing. So, it's a really interesting business. It's really a good business. You have to take action. That's what it is. I had lot of courage in me.
So the first house I did, I was surprised. I had multiple offers, sold in three or four days. If you want to know what sold my house I can get into the details, like what buyers are looking for.
The one thing that is not addressed in a lot of these interviews is the home inspection. So we need to be careful about that and check everything before we put the house up for sale. I can give you some orders and advice on what home inspectors are looking for and how you can be prepared for the sale not going sour.
Tell Me About the Home Inspection Process…
What are some of the potential inspection issues?
Everybody should face the reality that the sale is contingent on a successful home inspection. And not all homes are perfect. There are the flaws here and there. The seller should use his or her due diligence in fixing issues that may crop up during the inspection. During the inspection period, if some things come up that need to be repaired, it may delay the process sometimes, it might take a long time to sell. Some problems could get worse when the house is occupied and you could have taken care of those issues before they got terrible.
It happened to me with one of the houses. The buyer backed out at the end. We had to go with another buyer and that took about three weeks. We were three weeks behind schedule. But if I had been adequately prepared when my house was put up for sale, I could have had a smooth transaction.
What do home inspectors always look for?
The home inspectors always look for imperfections. But, issues crop up when you buy a house, whether through wholesale or MLS.
Most of the buyers don't go through the attic area or inspect them. There are a lot of issues in the attic area: racked trusses, roof trusses, mechanical vents not properly venting outside the roof, water stains, no felt paper, insufficient insulation, duct pipe is cracked, and nesting material which is a common problem with squirrels in the area.

I have seen these in the two houses that I was written up for. People get written up for those issues. Those write ups can cost money. And if we did it before, took care of it before, it might have cost less.
But anyway, the main problem that crops up also in the houses is negative drainage. I think this is a common problem that every inspector finds. For example, ponding water out on the foundation is not beneficial to the foundation and that's what causes foundation problems. One thing you should look at is if the water is flowing away from the foundation. You could fix it with proper landscaping. That would be the cheapest way instead of putting in a french drain. You have to address that issue because negative drainage is suddenly a big ticket item that can cause future house problems. You know, moisture damage, foundation damage, and cracks in concrete. That's one of the issues that get the most defects when found.
The roof gets overlooked because I guess we never climb the roof. We are afraid or maybe it's too high. But you need to do a walk around the roof with someone to help, a roofer maybe. Though the roof might be new, but you should see all of the flashings and see if they are properly secured. Especially check the chimney area where the flashing gets deteriorated over time.
Then you need to check the leaks for intrusion of moisture. Those need to be fixed. An inspector, no matter how high the roof is, will climb the roof and take pictures, that's for certain. Though the roof is new to many, you should look for all the details.
Then you have this issue also when people buy houses, they have to look at the water heater. Whether it is in the garage or in the closet, older houses maybe have it in the closet. But most of the time the water heaters are in the garage area. So the water heater should be 12 inches or 18 inches above the floor of the garage. That is a requirement. And some of them are just lying on the floor.
What is the biggest issue?
The biggest problem is the water drainage. A lot of houses don't have proper drainage. They have a pan under the water heater, but there is no drainage system where it can exit the house. It has to exit out of the house or to a receptacle in the garage where the water can be collected. This is also an issue that inspectors write up. The water heater might be old, but if there is no proper drainage of the water, that will be written up. A plumber can solve this problem. It's not very expensive to solve it before, but it might be expensive after they catch the defect. Because you know, they'll want it to be professionally done. It can be done in a very economical way.
HVAC, the AC unit, if it is not at a certain angle with the ground, they will write that defect up. It's not a big issue. That can be solved.
They will inspect your dishwasher for proper drainage. They will check all of your drainage. The main thing is drainage system. If anyone does foundation work, they should have the pressure lines checked for the water pipes and sewage pipes to see that it's not leaking. When I am fixing up the house, those might get affected. This is one of the things they want to see in a report.
Now you have fixed the foundation problem, you've got a lifetime warranty. Have you done a pressure check on the pipes and sewage lines? That's another issue you have to look at.
What is an inspection issue investors don't think about?
You never think of the windows. When I listed my house, I had just cleaned the windows, and everything was good, but we never opened the windows and never checked the hardware. Over the years the previous occupants did not open the windows and did not use the windows so what happened was that the hardware gets locked and broken. Due to that, the windows never opened. That's also another major defect. Finding hardware to replace hardware in the window is very hard. It takes about one to two weeks. That delays your selling process.
And then suddenly 80% of the windows were fogged up. I never thought of that. The window seal between the two windows leak over the years. What happens is that the moisture gets in there and the windows get foggy. The only recourse is, unfortunately, to change the window panes which is costly. It also takes one to two weeks to order them.
As soon as I take a house to rehab, no matter what, I look at the window hardwares. I open all windows to see if the hardware is working, or if it's stuck. I also look to see if the windows are foggy and if the seals are broken. If you measure the windows ahead of time, you can order the window panes for a low cost.
Know what to look for. If you clean the windows and they're not clean and you can see moisture and see that it's fogged up, some inspectors will write you up. Some buyers may overlook that.
What other parts of a property should investors pay attention to?
The second thing I do is go to the attic. I see if there are any abnormalities or leaks. And you never know if the duct pipes are cracked or if there is enough insulation. All inspectors will write you up for not having enough insulation but I can negotiate with the buyer since I did not agree on putting in free insulation. I did agree on fixing cracks on the roof and on fixing the duct pipes because they do leak. I also agreed to have the AC appropriately functioning.
Also check the mechanical vents that protrude out of the roof. Are they working?
And check for nesting material. Check to see if there have been some squirrels or anything before. Those you have to remove.
These are some issues that people do look at. And this can cost money, but if you prepare in advance you can look for some subcontractors who will fix these problems.
And of course, you should have a termite extermination company come to your house. It costs about $150 to $200 for the extermination and to check for termites. This will help. And if you have the paperwork in front of the inspector, he will be happy because he doesn't have to do all the hard work. The seller doesn't have to call a termite inspector.

Do you have the house exterminated before you have the house inspected?
I have two processes. Once I get the house, I have it exterminated because you know the house is dirty when you buy it. I do a deal that says, let's do this pest control or anything and if there's anything there before, and then before I put it on sale also. After I buy the house I do one process, and then the second I do before I sell the house.
I need to know if there's termites, because God forbid if there are. The first time when I get the house I check for that.
I have to take due action. Because that's the first thing you should do. Repair any wood or any stuff before you do your painting and your floors.
What are the benefits of a thorough home inspection?
It gives comfort to the mind. The first thing they'll do is a home inspection. Then they'll do an appraisal. Appraisal is not a problem. But with the home inspection, they will always find some flaws, which is normal.
How do you keep track of the items that need to be inspected?
I just print out these home inspection sheets. I have three or four. I go through them and see that home inspectors follow the same pattern. So whenever I put a house for listing, I go through each step on the inspection report and see what an inspector would look for. I do my final due diligence and I just do my final inspection myself. But I also do the inspection with my contractor or sub-contractor and see if there are any abnormalities that I should fix before any issues come up.
Does your inspection process change when you're looking for a property to buy?
Investment houses sell very fast when they come on the market, so I have to do whatever I can to inspect the main items.
I assume the investor has already looked at the big items: AC, water heater, and cracks. But I do go to the attic and look at the windows and circuits.Things like floor, painting, sheet rock and foundation are somewhat cosmetic—you can see them when you walk in the house.
Lastly, I check for signs of termites. I look for wood dust around edges or corners. I'll buy a house with foundation issues, but I would never buy a house with termite damage.
How did you find a regular construction crew to work with?
Well actually, a lot of people don't do it this way. But because I lost my job, I had time on my hands. I said, I'll give my own time and I'll work with these guys. I had two or three weeks with general contractors who were very expensive. If we have job for $30,000 you can do the same rehab using sub-contractors for $25,000 or $25,000. So I took the risk of hiring sub-contractors. I had one subcontractor who was very good who had worked on my house before. I had one good guy. The other guys, believe it or not, I got them from outside, from Craigslist,handyman.com and other sites.
Some of them don't take checks. They'll tell you. That rings a red bell. If they don't take checks you shouldn't hire them because they want cash. So they want cash and they want to do a job to get cash and they never come back. That's one of the things I look for.
Most of the guys who did the job did not meet the job requirements. They took my money and they left. I called them and they never answered my call. I learned my lesson and I had to hire a crew to repair the job and it cost me more money to repair it than the quoted price. I learned through a lot of highs and lows. In between, those few contractors I came to know and they had very good work. It was a learning process. I had a few bad contractors and then I had a few good contractors who cost a little bit more, but it's worth your time. You don't get cheated.
Now I have a crew of three. One fixes the floor, bathrooms, and tiles. One does plumbing and electrical work. And one of them does the sheetrock work. The main problem with good workers is that it is very hard to schedule their time. They are so busy that you can't finish your work on time. But good contractors are like that. This is how I learned my lesson. I come with experience and I do not give up. I finally got a good crew whom I can depend on now.
What is the ideal Dallas investment property that you look for?
I don't go over $150,000. I get most of the houses within $100,000 . The highest price I paid was $126,000. The good thing to have is patience. When I started, I was looking at houses and I was getting over bid or bidded out. I could not find a good house. I was very careful and I was becoming very frustrated. So now I tell people not to jump, but instead to have patience. A good house will come in their way, believe it or not.
My houses are in the range of anywhere from $90,000 to $126,000 because I want to make sure I succeed in this venture. At this price, I don't have to put too much money in the rehab and other expenses. So I just do a cosmetic fix. Any cosmetic fix will take you $20,000 and upwards.
The first thing is the kitchen. The kitchen is the most important thing, no matter what it costs in the rehab budget. Put in granite countertops. And with the granite, put in a nice backsplash. Backsplash doesn't cost any money. And then put in a new sink and a new faucet. The kitchen tile has to match the backsplash of the granite you are putting on the counter. And of course, your cabinets… You have to paint them. For the floor décor, you buy small. They don't cost too much. Labor might be high. Then what I do extra, I buy stainless steel appliances. Or I buy them used. But, you should put stainless steel or black appliances. Take all the old appliance out. I chuck them all, no matter how good they are. And in some houses I will add a refrigerator. If I think the house will sell, I put in a refrigerator. Usually it's not required to put one in.
Then I work in the living room. You need good laminate. Don't use cheap laminate. When you use cheap laminate, the floor makes noises when you walk. I have used cheap laminate. I learned my lesson. I had to re-do it with the underlayment, believe it or not. Go anywhere from $.99 to $2 a square feet. The living room has to look good.
Then go to the bathrooms. In all the bathrooms, I change the small tiles to big tiles. I also change the faucet. If I can, on the bathtub I put in a closing door. It doesn't cost more than $200 but it makes it look like a standing shower. If the vanities have rotted, I don't build a new vanity. I just go to Lowe's or Home Depot and buy a whole vanity for $100, $200 or $300 dollars and install them.
You have to make the bathrooms beautiful, and the kitchen and the living room when they walk in.
I also do the gardening myself. I'm good in that. So I dig the ground. I put in the rocks, and the plant myself.
Is doing DIY costly?
It doesn't cost too much if you do it yourself. It's not too much labor. I make the house look good. One house I had people fighting for the house. I had 12 offers! The CMA was $140k, I sold it for $150k. That was just from the granite kitchen countertop and the bathrooms. I did ask people, what attracted them to my house. They said, "Well, you built a nice house, it's nice and cozy."
What else do you do for the gardening?
I make sure that the soil is very smooth. Then I buy the ring enclosures. You can get these at Home Depot and they are not very expensive. $20-$30 at most. And then I buy some white rocks or you can use mulch, red mulch preferably. I just used the white rocks at one house but it's expensive. Buy the red colored mulch. That attracts people.
After I do the soil and mulch work, I go buy shrubs. Don't buy the expensive shrubs. Don't buy the $66 shrubs. You can buy shrubs that cost maybe $20. Some are $10 even. You buy the shrubs because you don't have time everyday to water that area. Don't buy flowers that you have to watch every day or havehave to go to the house to water  everyday. I can't come by everyday to take care of the plants, so I buy shrubs.
Take a picture of the house highlighting the garden. Make sure when you put in the new top soil that the drainage is away from the house. Make sure the grading is from top to bottom so that it flows away from the house.
What is the last piece of advice you have for first-time investors?
The first thing is to have patience. The right house will come your way. You don't jump into the house for the sake of buying a house. You want to make money so have patience. The right house will come at the right time.
Use your due diligence. Look for what you have been taught to look for. se your education. And always ask for advice from other home flippers. One of them is already successful.
Make a checklist. Make a checklist of what you're going to look for when you buy a house. But the first thing to have is patience. And knowledge is always beneficial.