7 Home Selling Tips for Flipping Investment Properties Fast
Everyone wants to emulate the fix and flip shows on TV. It looks fun and easy when others are doing it. Then reality hits when you do a rehab yourself. This is when you realize the many details involved in each stage of the flip.
One stage that many investors overlook is the selling of the property. They assume that once the rehab is done, they can coast to the closing table. This can cost time and money because a finished rehab doesn't equal a ready-to-sell house. You want to have a game plan for selling your flip because you only get one chance to make a first impression! 

1) Set a Fair Price

You need to research what other similar houses in your area are selling for.  For a good market price comparison tool try Zillow.com. This will give you a solid indication of how much money you should ask for your property.
Is it a seller's or buyer's market? That can greatly influence the price too. When you look at the comparable sales information for homes in your area, see if the overall prices have gone down in recent years. If so, then it means it's a buyer's market rather than a seller's market. This might not be the best time to sell if you can help it. Otherwise, choose a price for your home that is in the middle of those other prices in the comparable sales data model. 

Of course, you can always sell your home a lot faster if you decrease the price to the lower 25% on the comparable sales data. This will make everyone else's home look overpriced while yours looks like a great deal.

2) Lower the Price if the Listing Sits for Too Long

The longer your home sits unsold on the market, the more difficult it will be to sell. If you really need to sell your home, then you'll have no choice but to lower the listing price. You may not like this idea if you feel that your home is worth more, especially if you paid more for it originally. But if there are no interested buyers knocking on your door, what else can you do? 

It's better to lower the price than to leave your house on the market unsold for several more months. The general rule is if ten buyers have seen your home, but none of them have made you an offer, then you should reduce the price. Otherwise, real estate agents and home buyers will wonder why your home is not selling. This may scare them away. You don't want that to happen, so lower the price. 


3) Fix the Home Maintenance Issues

Buyers want homes that they can move into right away without having to fix anything. They don't want to deal with leaky roofs, electrical issues, malfunctioning toilets, and so on. If you have any problems in your home, then you need to fix them before listing your home on the market. If your home is already on the market and you haven't made the necessary repairs to it, then do so immediately. This is the best chance that you will have at attracting buyers. 

Buyers do not want to purchase a home that looks neglected. Broken appliances and untreated damages are signs that your home is problematic. That is an instant turn-off to buyers. If you are not an experienced handyperson who can fix these problems yourself, then hire a professional who can fix them for you. It is the only way you can get the most money possible for your home. 

4) Be Flexible with Home Buyers

You need to learn to be flexible with prospective buyers and their needs. You may have the desire to move out at a certain date in the future, but what if a potential buyer needs to move in sooner? Are you going to accommodate their needs or your own needs first? 

If you want to sell your home quickly, then you must accommodate your buyer's needs first. That is why you should prepare to move quickly even before listing your home for sale. Remove all your personal belongings and put them in storage as you wait to sell your home. Then when you find a buyer who wants to move in soon, it won't take you long to move your things out and close the deal. Politeness and flexibility are always positive things to demonstrate in front of a buyer. 


5) Staging Your Property

Home staging is something that real estate professionals do. It is the practice of enhancing the aesthetics of your home before showing it to prospective buyers. This might involve rearranging furniture, adding a neutral paint color to the walls, updating the decorations, replacing the carpeting, and more. 

Of course, you'll have to pay for these upgrades as the homeowner. Is it really worth the investment? According to statistics, the average staged home has a 17% higher sales price than a home that is not staged. Not only that, staged homes typically sell within 11 days of being on the market. Homes that are not staged stay on the market for at least 90 days, if not more.  This makes staging a great investment. 

6) Trigger the Senses Throughout the Home

Every one of your potential buyer's senses should be stimulated when they walk into your home. First, you must clean your home and remove all the clutter from it to create a nice visual appearance. Then to capture their hearing sense, play a soft classical tune in the background as they're walking around your home. There should be no other distracting noises like dogs barking or television sets on. 

Eliminate odors by lighting incense, washing the carpets, washing dirty laundry, and so on. Some homeowners like to bake gingerbread cookies to create a nice smell in the air. You could also offer a cookie to your prospective buyer and satisfy their sense of taste as well. 

7) Good Exterior Aesthetics

First impressions are always the best. When a potential buyer approaches your house, it needs to look good from the outside. Everything from the landscaping to the exterior walls must captivate your prospective buyers. You'll want them to have a positive feeling about your home before they even step inside and look around. 

You can prepare your yard by mowing the grass, picking up things from the yard, throw away lawn clippings, and so on. Add colorful flower plants to the front porch and yard. Put away your kids' toys and other personal items that are outside. If the exterior siding needs a new coat of paint, make that happen too.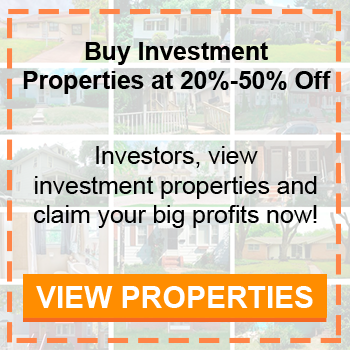 Conclusion: Selling Your Flip Fast

Selling your flip fast is about presenting a well-polished product at a reasonable price. It may take a few weekends of hard work to pull off the finishing touches, but remember you only get one chance to make a first impression. So, don't give potential buyers a reason to walk away. Price it right and make it shine. Then sit back and watch the offers come in!

Guest Author:
This post was written by guest blogger Rick Martinez. Rick writes for a Tulsa based real estate website that helps homeowners sell their houses quickly. Check it out here: sellyourhousetulsa.com. See more about Rick below.