Eric Mastered a Formula to Create Passive Income with Houston Investment Property
Eric made a life-changing decision… He decided it was time to start creating passive income with Houston investment property.
While working full time in accounting, Eric used his free time to self-educate, participate in online forums, attend events, and talk to other investors.
Once he announced his real estate investing plan to friends and family, he met people willing to share their advice. Setting the intent to be a real estate investor began to open doors.
With a background in accounting, Eric created the formula he needs to determine whether a property is worth the investment or not. He created specific parameters and formulas in the spreadsheet, and once he plugs in the property information, the decision to invest or not becomes easy. Eric recently found a deal (his first!) on MyHouseDeals.
Eric works at a construction company, which was extremely helpful when it came time to find a general contractor to work on the rehab for his property. He side stepped the need to vett contractors and was able to hand pick the individuals he needed for the job.
Although Eric is new to investing, he knows the importance of picking up the phone and meeting others in the industry. He agrees that it's important to read and research before investing, but ultimately, he says that being proactive in the community is how deals get done.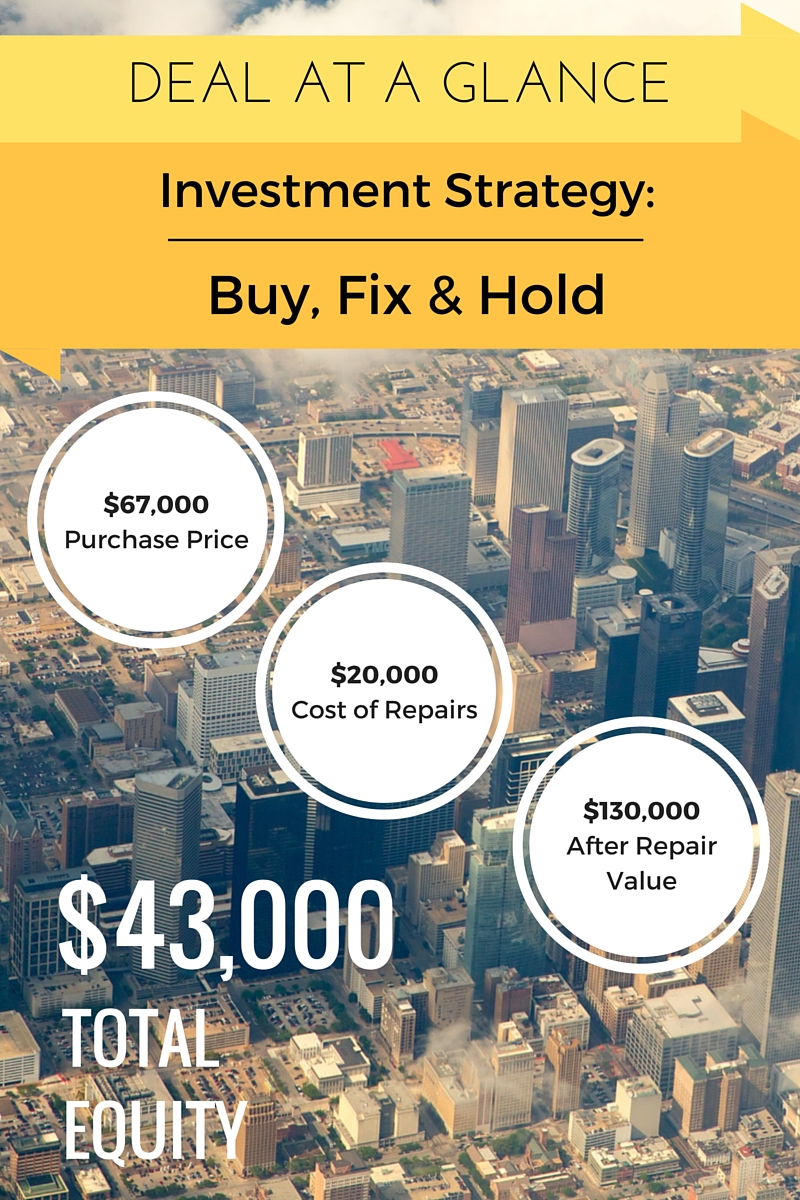 Listen to our conversation with Eric, during which he talked about his first deal, plus…
What parameters to use when assessing potential deals
How to use a home equity line of credit for funding
How find accurate comps without a real estate license
MyHouseDeals.com Success Stories
NOTE: Since Eric is a Premium Elite member, he received a FULL refund of his up-front membership fee for simply doing a deal! Find out more about our Premium Elite membership here.

Check out Eric's full story below.
Tell Us About Yourself…
What inspired you to invest in real estate?
My background is in accounting. I'm an assistant controller for a construction company in Houston, Texas. I was inspired by doing a lot of research and reading about real estate. I really wanted to get involved in passive income since I have a full time job, and I thought real estate would be a good vehicle to get me where I want financially.
How long have you been an investor and how have you built your education?
This is the first real estate deal I've done, so not very long. I've probably been researching for close to a year; many books, many forums, a lot of networking events, and that's how I came across MyHouseDeals.com.
Was there any specific training, forum, or book that really helped you?
Millionaire Real Estate Investor and Rich Dad, Poor Dad. Those two were some of my favorites books.
How has networking played a role in your success?
Networking has really done everything for me. If it wasn't for networking, I would have never made the contacts in the real estate business that I was looking for. It brought me lenders and wholesalers. And it brought me insurance providers and business partners. BiggerPockets.com is one of the forums where I have met a few contacts.
I told people I wanted to be a real estate investor and everyone had someone they knew who was in the trade. I would get their number, talk to them, and it just snowballed from that point on.
Do you operate your business as a sole proprietor or an LLC and why?
I operate as an LLC because I have a business partner. I do it to limit our liability. I don't want to have anything in my personal name, and that is for liability reasons.
What are your favorite features of MyHouseDeals.com and how do you specifically use the site as a resource?
My favorite part about MyHouseDeals.com is the ability to get in touch with wholesalers. It is the easiest way for me to get in touch with numerous wholesalers quickly, see a lot of properties, and do it all from my desk at work.
Tell Us About the Deal…
What are your plans for this particular deal?
This is a buy, fix, and rent. I am almost done with my renovation and I hope to have it on the market in about a week.
Why did you choose to hold and rent out this property?
I have my own parameters when I look at properties on whether it is more viable as a flip or a rental, and when I ran the numbers on this property, I preferred to keep it as a rental property. My overall goal in real estate is to have a nice little real estate portfolio to create passive income, and flips are more immediate income.

What challenges to you foresee as a landlord?
I will be managing the property myself so obviously the 3AM phone calls that the plumbing is leaking would be my biggest challenge. Hopefully we don't run into that since we have taken this house down to the studs and gone through it with a fine-tooth comb. I'm hoping to keep the tenants at a safe distance from me.
How did your contacts at work influence the rehab of the property?
That made all the difference in the world. Since I work in construction I walked down the hall, picked my favorite project manager I work with. I know his track record with our company and asked him to be my general contractor on the job. He was more than happy to do it. He has all the contacts in the business and he was the barrier in between us and the subcontractor. As the owner it's easy to walk through a property and say, "I want this and that changed," and tell your general contractor, as opposed to having to go back and forth with the subcontractor arguing why you want it this way or that way.
What process did you use to evaluate the home and the cost of repairs?
I have a really long Excel formula that calculates how a property meets my parameters. I was able to view this property myself before I purchased it. I ran down to the house around 7:00AM one morning before work. I did a quick run-through of the property. I looked for major repairs, foundation and roof, any signs of water damage, especially in the Houston area. I knew what repairs I wanted done. I met with my general contractor that day, gave him the list of repairs and a few pictures and the square footage of the property, and we came up with a budget. Based on the budget and on what I felt like I could get the property for, I determined my asking price.
In Houston, you have a few key things you're looking for: foundation, roof repair, and making sure there is no water damage. A lot of older homes in the area had galvanized piping, which I wanted to stay away from. I look for general items like that, especially mold. You should always look for mold. Any signs of mold I want to stay far, far away from.
How did you build your Excel spreadsheet?
I came up with it myself, but I used a lot of the parameters on things I've picked up here and there. You want to generalize what your taxes are going to be. You want to look at a realistic repair budget. Ask yourself, what can you sell the property for? You need to consider holding costs. I tried to take every consideration possible, incorporate it into this spreadsheet so there were no surprises throughout my process.
How did you acquire comps information?
Comps were my biggest challenge because I'm not a licensed real estate agent. I was not working with an agent, so I would take listings on the MLS that were currently available. I would figure out what day it might close. If it's listed at a $120,000, maybe they can only really sell it for $112,000, and I used that for comps. I looked at recent sales in the area and a lot of times it just gave me a range. It's not an exact number, so that was my hardest task. I could base the range within $10,000 on most homes and that's close enough for me.
Can you share with us what funding sources are you used to fund this deal?
Funding was a big concern. I'm a fairly young investor. I'm only 30-years-old. This is my first rental property. I do not have a lot of cash on hand so I didn't feel comfortable putting 25% down, which I couldn't do because this was a wholesale deal. I couldn't get conventional financing on it; it would take too long. I talked to hard money lenders and I thought the fees were too high, so I ended up finding a private money investor and we were able to reach a deal.
He paid for the house 100%. I paid for the renovation cost 100%. I'm going to have the house reappraised, take out a home equity line of credit or loan against the house, which could get up to 75% of the appraised value. I'll pay him back his portion, and any difference, I'll pay as well, so I come out pretty clean.
How did you convince that private lender that you were a borrower who could be trusted?
I already knew the lender; he is a family friend. I've known him for many, many years, and he made sure his money was secure by having a lien on the property. Real estate is a very safe investment, so he made sure to have all his loose ends tied and we came to an agreement. It was very mutual and hopefully he will have his funds back within three or four months.
What advice would you give to new investors?
If there was anything I could change, I would change my networking. I would have done it quicker and sooner. I did so much research at the beginning. I read so many books, so many articles. I felt like I knew so much, but the knowledge you gain just speaking to individuals in the business is helpful. They can tell you if what you have read is correct or they may have a better idea. If I would have gotten out earlier and started networking and talking to people earlier, I think I could have advanced this whole process by six months or a year.
More action up front, more face to face networking, or phone calls would have been helpful. I was researching so much. I had so much information, it was almost overwhelming, and I actually had to tone it back a little and start getting out there, beating on doors, talking to people, going to meetings and letting everyone I know; tell them my intent. As soon as I did that, they were happy to give me referrals to people in the business.