Michael Got His First Deal From Just 10 Bandit Signs: Find Out How
Michael was at a pivotal point in his life with his financials and job. He owned his own business—but things weren't going as planned and he knew he had to make a change.
He began looking for new opportunities and after attending a real estate investing seminar about house-flipping, he knew he wanted to learn more.
Michael's first deal was pretty nerve-wracking. He put out 10 bandit signs for motivated sellers, and he got ONE phone call…
It's the only call he needed because he was able to close his first wholesale deal and make over $9,000!
Michael's key to success is to make the numbers work for everyone…
The numbers have to work for the seller, the investor buyer, and himself—or he doesn't do the deal. Creating these win-win-win situations is exactly how he was able to close his first deal.
With a few deals under his belt now, Michael is determined to do real estate investing full time. He manages his investing career with just 10 hours a week in addition to his full-time job, and his goal is to go full time and work towards three deals a month.
Listen to our conversation with Michael to hear more about his investing experiences, the deal he found on MyHouseDeals and his tips for new investors plus…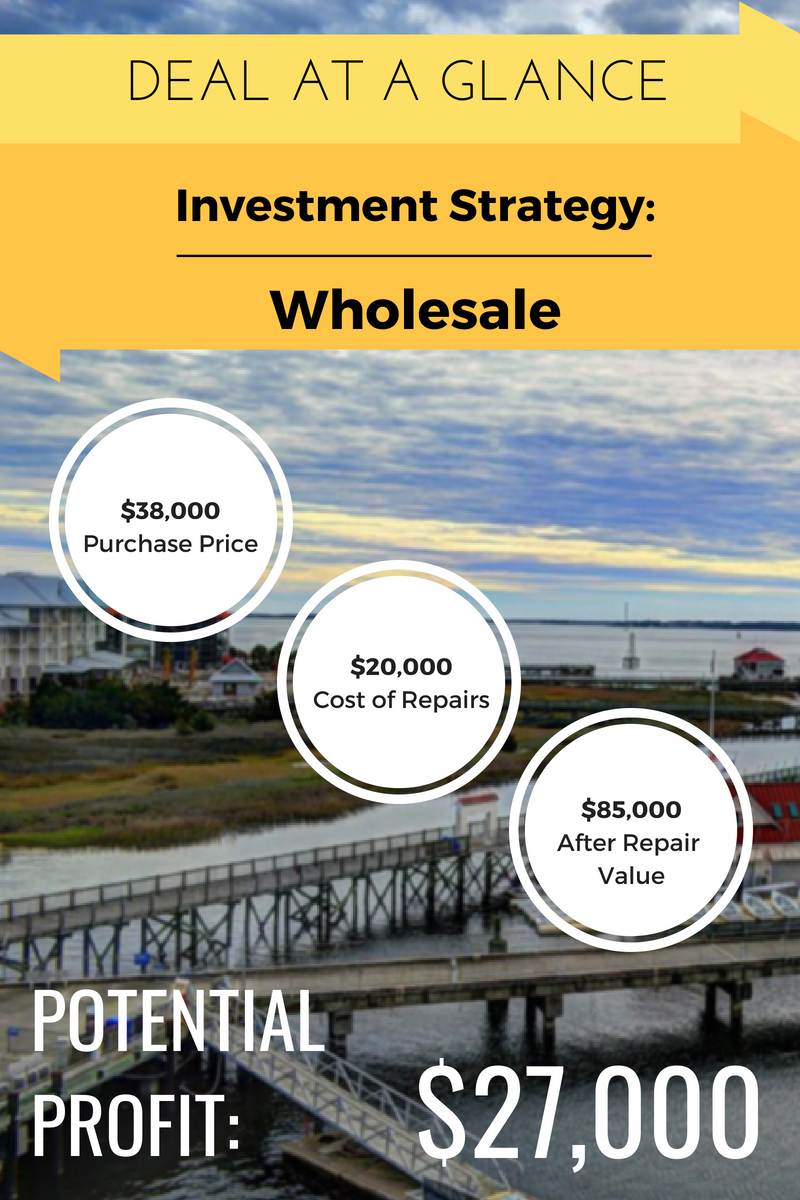 MyHouseDeals.com Success Stories
How to build trust instantly with motivated sellers
The good, the bad, and the ugly about expensive real estate seminars
Where to put bandit signs to get motivated seller leads
NOTE: Michael is a premium member, he received a FULL refund of his upfront membership fee for simply doing a deal! Find out more about our premium membership here.

Tell me a little about yourself…
How did you get into real estate investing?
I was basically at a roadblock in life with financials and my current job. I owned my own business, but it was kind of flopping.
After looking for other opportunities, I received an email about house flipping and went to a seminar to learn more about flipping. Next, I went to another three-day seminar and a three-day boots on the ground program. From there on out, I was able to do two deals. As of now, I've been doing real estate investing for six months and counting.
You've done two deals in six months?
Yes. I like to do at least two to three deals a month.
Tell me about your experience with doing educational programs. Would you say that they were worth it?
The programs were definitely worth it. The information was very valuable. I don't feel like I got all of my money's worth, but everybody has their own opinions about what things are worth. The good news is that even though I haven't completely paid off my loans, I did make my money back on my first deal. That was kind of cool! Life has turned me upside down, so I'm trying to recoup.
Are you still running your business?
I'm not doing the deliveries and load jobs, but I am still doing the lawn service.
What appealed to you about the house flipping email?
The fact that I could do it without having any cash or credit and that I didn't have to actually do the work. I could just go out and find the properties and then turn around and sell them. I could flip the contract to a buyer and actually make money off of it.
Are you doing wholesaling then?
Yes. That's what I'm focusing on right now. I'm thinking about doing that for the next two years or so, depending on how long it takes me to actually get some revenue built up to then flip houses.
I would like to eventually get into flipping homes and doing rentals. That's my goal.
How did you find your first deal?
My first deal was kind of scary. I went out and put up about 10 bandit signs. The crazy thing was that with 10 bandit signs, I got one phone call that actually led to my first bill. This is definitely a wow story. That's what I tell everybody. They're like, "You put out 10 signs and you got a bill on your first call?" I tell them, "That was the only call that I actually received."
Do you think that your location for the bandit signs mattered?
Yes, I think the location mattered for the particular sign that got me my first bill. The lady had a home in the area but didn't live there. She was probably just going by to check up on it when she saw the sign. She gave me a call, and everything went from there.
What happened after she called you off of the sign?
She told me about her property, and I went and looked it up online. I ran my comps on the software that a company I signed up with had given me access to. Then, I also ran comps based off of using Zillow for that particular area.
Once I got my comps and saw the amount of money I could make off of the deal, I called her, set up an appointment, and went to look at the house. She showed me everything, told me the price, and told me about her situation. She wanted to get rid of the property because the taxes were hitting her hard every year.
After running my numbers, I knew that I could work with her price. I told her that I would contact her the next day, which looking back was kind of stupid of me because I gave her time to talk to other people.
I called her back the next day and told her that we could definitely work out a deal with the property. We sat down together, negotiated the price, and signed the contract.
I began looking for cash buyers, but I wasn't very successful. I decided to call up a friend of mine that went through a real estate class that I took as well. He actually found me the cash buyer for the house, and in turn, I gave him some proceeds for his help.
How much money did you make on this deal?
I made $9,000.
What were the tips from your training that you were able to utilize to finish this deal?
I think what helped me the most was knowing how to run numbers. Running numbers let me know the good deals from the bad ones.
That and knowing that cash buyers are out there and looking for properties helped me to finish this deal. Sometimes, I would question why they are paying me to find properties for them, but the cash buyers are really out there. I just have to work with due diligence and connect with them.
Did you experience any hiccups with this deal?
We had hiccups with separating the property in different partials. It was on 3.6 acres, and the problem was having to go in and separate the property. This issue slowed down the process and pushed back the closing date. We ended up closing two days later than the original date.
The problem wasn't big though, and I was still very, very pleased with the deal.

Tell me about the deal you found on MyHouseDeals.
I signed up for the MyHouseDeals membership because I like the way the website is set up. You can actually save properties.
There was one property that I saved, and I kept looking at it. I ran my numbers, and finally, I decided I was going to try for it and see what happens.
The property was down in Landrum, South Carolina. It was a wholesale deal, and it seemed to have my name written all over. I ran my numbers, and although they were a little off, I was thinking maybe I could make it work.
I contacted the seller through the site and let him know that I was interested. He told me to go to the property and take a look. I looked at the property, and it didn't seem to be in bad shape. I could definitely work with it. From that point on, we went through the whole process.
I approached the same cash buyer that I worked with during my first deal. He was definitely interested, but he said the price was a little high for what he thought the house was worth. I contacted another cash buyer who also said the same thing. The original cash buyer that I contacted then said, "If you can go back and get the seller to drop the price some, then maybe I can help you out."
I had never bargained the price before, so the buyer talked me through it. He told me exactly what to say and what to do. I called the company that I had done a class with, and I got lots of good information.
I ended up doing an addendum on the property to try to get the price reduced. The company called me and told me to send the document to the seller. The company said, "This is what you can offer because you have gone back and evaluated the property. Your contractors are saying that it's going to cost more for your expenses, so you can offer this price. If they don't accept it, then that can count as a withdrawal from the contract."
I followed these instructions, and sure enough, the seller called me within the next thirty minutes and asked if that was my bottom line. The seller and I negotiated a price and got it on the contract. We moved forward with everything, and I got another deal done.
Although I was kind of winging it, things worked out in the end.
How did you build trust with motivated sellers?
I try to be upfront. Even when I'm running my numbers, I don't try to gouge my numbers. I try to put my numbers, which will benefit the seller and buyer. If I think it's going to be $30,000 in repairs, I usually say it's going to be $30,000 to $40,000 in repairs.
I also inform both sides on what to do. In my last deal, I told them, "In order for me to make anything off of this one, I can't do it at that price." The buyer told me to talk down the seller at least $2,000. Initially, we were shooting for $34,000, so that I could make $6,000. If not, we would settle for anything less than $40,000. I talked to the seller, and I shot for $34,000, but he said, "I need to be able to make something off of this deal myself." That's when I decided to offer $38,000.
We negotiated between the 34 up to 38, but I set my foot down at the end and said, "38 is as low as I can go." The seller agreed, and we moved forward from there. I don't sit there and play the game of being tricky with my words. People can tell that I'm pretty straightforward, and I am as honest as I can be about situations. I think that has helped me out a lot.
How has your life changed since you've gotten into real estate investing?
That's a tricky question for me…My life has changed in the sense that I found a career I would love to totally dive into. I told my wife that I would love to do real estate investing from now until the end of time. The only problem that's holding me back is financials.
Once I get my financials situated, I'm going to work until I can get enough money in the bank and walk away from the job to do real estate investing full time.
Financially speaking, real estate investing has changed my life for the better. My perspective on life has also changed, and I see a clear way to go.
How many hours a week do you spend on your real estate investing business?
When I first started, I was putting in about 20 to 30 hours a week. I was listening to YouTube videos and reading online in search of marketing techniques.
Now, I probably spend about 10 hours a week at most. I'm so tired from my other job, but I always try to put in 10 to 15 hours of work a week. My goal is to do my other job for 40 hours a week plus real estate for 10 to 15 hours and work from there.
What are you doing to get three deals a month?
That's where I'm struggling a bit. I have been joining in on different webinars to learn about different marketing techniques. If I can find a specific venue that I can market in and generate those two to three deals, then I'm going to heavily focus on that.
I've been looking at Facebook a little bit in addition to putting out bandit signs.
Do you have any other insight to add?
If anyone has a desire to get into real estate investing, my advice is to go into it with the mindset that it's not going to happen overnight. You must put your mind to it and work hard. Real estate is not a gimmick, that's for sure.
The Recap
Michael's story starts off with him hitting a roadblock with his personal business and finances. He realized he needed a solution, happened to get an email about real estate investing, and jumped right in.
He took advantage of the training and education available to him, and he told us the good, the bad, and the ugly about paying for expensive programs.
His focus right now is wholesaling, and he gives us a lot of great advice on how to build trust instantly with new sellers and how to get creative with deals. He lucked out a bit with getting a contract on his first and only call from a bandit sign, but he was strategic about where he put his signs.
Michael is succeeding by just working on his wholesaling business for 10 to 15 hours a week while he continues working his full-time job.