Gloria Builds a Rental Portfolio to Secure a Nest Egg
Gloria and her husband took control of their future… With retirement in mind, they decided to diversify their investment portfolio. They began purchasing Atlanta investment property (rentals) to build a steady flow of income and ensure financial security during retirement.
Gloria continually learns lessons as a landlady. She knows that if you treat tenants well they will stick around longer – and longer tenants means fewer vacancies. Gloria dispels the idea that finding good tenants is difficult. She uses her own formula of requirements and finds potential tenants quickly, which reduces negative rental experiences.
Gloria knows that the real estate investing business is fast-moving and this held true with the deal that she purchased from MyHouseDeals. Her husband did not even see the property before the deal was done! They knew the price was hard to come by and they needed to act quickly. And as a bonus, the house already had tenants. We recently sat with Gloria to learn more about this deal, her experiences as a landlord, and her overall investing strategies.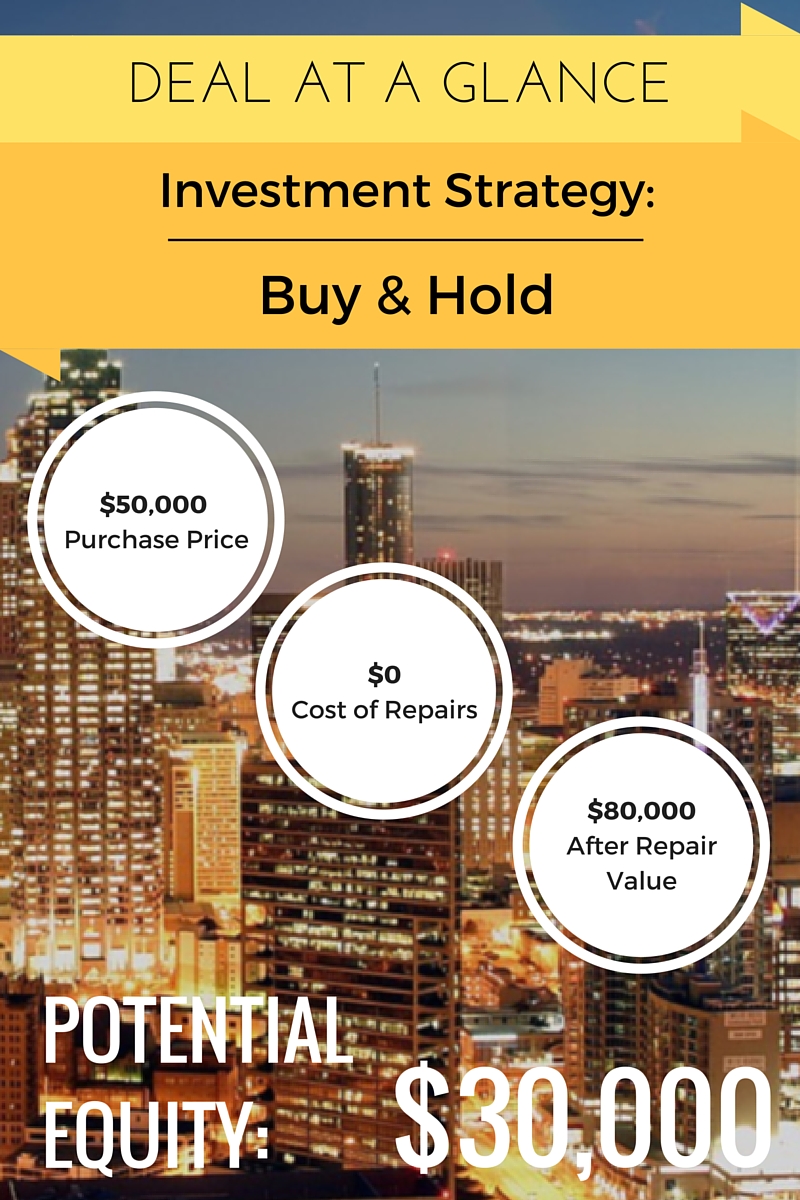 Listen to our conversation with Gloria during which she talks about her first deal, plus…
MyHouseDeals.com Success Stories
How to narrow down potential tenants to the most qualified
Why you need to pay attention to the size of a property when you plan to rent it out
How to creatively finance a deal using your retirement account
NOTE: Since Gloria is a Premium Elite member, she received a FULL refund of her up-front membership fee for simply doing a deal! Find out more about our Premium Elite membership here.

Read the full story here…
Tell Us More About Yourself…
What motivated you to become an investor?
My husband is self-employed and we had no retirement income. We wanted an income stream. We had some money in the stock market but we didn't think that was a very safe place to keep it. We wanted to grow it faster then was happening there.
Was it difficult to take your first step?
Actually, it was difficult in a sense. We are not real risk takers. We feared that we would spend money and not be able to rent the house after the fact. Our first rental property was a home that we rented while we were building the house we live in now.
My husband drove by and found out how much it was. When he came home and told me, I said, "Let's buy it." That was that. This was our opportunity to tear it apart and build it like we wanted it. It was a real fixer upper. We only paid $27,000 for it. It was almost 20 years from the time we lived in it to when we bought it.
It still had that carpet in it from way back when we lived in it which needed to be replaced when we lived there. It was pretty bad. We opened up walls. We opened up the kitchen. We took out the big window, put in a sliding glass door and built a deck on the back. We even took out a masonry fireplace and replaced that opening with a window that let light in where we knew there was none. We lived there long enough to know, "Oh, my goodness. We need more light in this place."
How have you increased your real estate investing education over time?
There was, unfortunately, a lot of on the job training.
We discovered different tradesmen to help us. Unfortunately, with the very first property, we tried to do everything ourselves. That impacted the amount of time that it took us to fix it up and get it on the market.
Since then we have a group of people that help us in different areas with plumbing, with carpentry, and so on. We learned a lot about how you get tenants, how you advertise, and how you evaluate just their applications and so on.
How do you find and vet good tenants?
That's a very good question. It's not an easy one to answer. We learned that the best place, here in Atlanta, for us to get tenants is to advertise on the Go Section 8 web site. By paying a fee the ad goes out on all of the real estate web sites.
People call from all over. They're not necessarily Section 8. You'll get a lot of people calling who are and a lot of people who are not. You can choose from those. That's the advertising route that works the best for.
Within 3 minutes of me pushing the button on an advertisement, I get a call. I set aside a couple of days to take calls. I usually have a tenant within about 3 or 4 days nailed down.
Everybody that calls is not qualified. I look for an applicant who has been in one place for a long time. Anybody who stayed in one place for 5 or 10 years didn't stay there by not paying the rent.
I don't pay too much attention to credit because if they had good credit, they will probably buy instead of rent. I don't really weigh that very heavily. I do look at their employment. Proof of income and the length of time in employment is very much a factor. If they've had a job for two months, I'm not going there.
What attracted you to this particular deal on MyHouseDeals?
The price was excellent. The house already had improvements and it was tenant occupied.
What do you like about renting properties?
We like the fact that there is a steady income stream. We also like dealing with people, for the most part. We wanted rental property for a long time. We thought we would be good landlords; that we would treat people well. We felt like we were a good fit to be landlords.
How did you rehab the property you found on MyHouseDeals with tenants living there?
Like I said, a lot of that work was already done. The current tenants lived in the house for a year already. The house had new siding, new windows, and a new deck. The bathrooms were renovated. It had a new AC unit. A month after we bought it, a hail storm came through. We got a new roof and gutters.
The kitchen itself needs to be completely redone. It needs new cabinets and new counter tops. We tried to schedule to redo the kitchen, but our current tenants tell us repeatedly that they do not want us to renovate the place. We are just going to wait until they move. We'll deal with it then. It would be very difficult, actually, to try to renovate a place with tenants in it.

How did you finance this property?
We paid cash. We used money in a retirement account.
Has your funding strategy changed over time?
Yes, it did change over time. And no, we don't always use retirement funds. The first 2 houses we purchased were not with retirement funds. Once we moved the retirement money to use it for investing like this, we started doing that exclusively.
We actually moved a lot of the money into a Roth 401K. We moved it all into a 401K. A lot of it, over a couple of years, we moved into a Roth account. Then we bought houses with that Roth money. Now we have four houses that generate income and a monthly rent that goes into a Roth account that is never taxed.
If we sell those homes, anything that we earned on that is tax free as well. We try to keep some money liquid. When it's in the bank, even if you have $70,000 or $80,000, you're going to earn $1 a month. You buy a house with that and you're earning $850 or $900 a month instead of $1. It just builds up very, very quickly.
What does your process look like for fixing up a property?
We have a lot more help then we used to. The older we get, too, the more we want that help. We utilize that a lot. I actually found a wonderful carpenter on Craigslist. That's always a place to look.
You never know what you're going to get I guess, but I got a very honest and very qualified carpenter. He's just been great and works for a good price.
Were there anyway surprises with the deal you bought from MyHouseDeals?
No, there really weren't. I have to tell you, we closed on the property and my husband never even saw the inside of it.
I guess he was looking at the cost. What could be wrong? We have people living in there. What could be that wrong that it wouldn't be worth the money?
Back then and even now, with the economy the way it is and the market the way it is, you can't dilly dally. You've got to jump on it and move.
What is the biggest mistake you've made in your real estate investing business?
The biggest mistake is that we used to do everything ourselves. When we did the renovations, we overdid it and tried to make the houses nicer than they needed to be. We have changed a little bit on that, but still want them nice.
What kind of repairs maximize your profits for your rental properties?
We always want to provide good windows. We think that is important just for the property itself. We check that out. A lot of them don't need new windows, but a lot of them do.
As far as flooring goes, we try to keep that fairly high quality. We want carpet that is cleanable, but not too high end. We probably spent more on carpet initially than we needed to. We use a flooring in most of the house that's easier to clean like laminate flooring in all the living areas and kitchen. And we only put carpet in the bedrooms.
We still do put fans in every room because it is Georgia. We feel like our tenants appreciate that. We also do a lot of Craigslist shopping for appliances. We can find really good quality appliances. You have to look though. You can get quality appliances like refrigerators, and stoves. I always put in new dishwashers. Refrigerators and stoves, especially, you can find on Craigslist for very cheap.
People are always changing them out for color reasons. Maybe they redo their kitchen and they don't want black anymore. They want stainless steel or they don't want stainless steel or they want some other color. You can go get their castoffs for next to nothing. I have never, never had a bad Craigslist purchase.
What advice do you have for new investors?
I can only speak as a landlady. Tenants are a dime a dozen. Don't be afraid that you will buy something and not be able to rent it. You will. You will get a tenant. If the first one you get is no good, then go through the process of getting a new one. There will be someone to rent your house.
Keep your house in good shape so a tenant is proud to live there. Use some color on your walls. Don't just make it landlord beige. People get tired of that.
If you see a deal, don't hesitate. Get it. Make an offer today. Don't delay. If you delay, you're going to miss out. Watch the market. Look for deals every single day.
The last house we bought, I saw it on a Thursday night. It was listed that morning. The very next day I made an offer on it for the full value plus closing costs. That afternoon, someone else made an offer that was exactly the same as mine, but they took my offer. My husband had not even seen pictures of the house! We closed on the house on a Friday. That Monday we had a tenant in it. You have to really move fast. If you're watching the market ahead of time, you know what's a good deal.
Any last minute investing tips?
The other thing about buying a house to rent is that you can't go too big, or too small. You need to keep it between 1,200 and 1,800 square feet. Otherwise it will be hard to keep someone in it. Families tend to grow.
If the property is too large, then your taxes are higher. Your insurance is higher. There is more flooring to keep up. There is more roof. There are more windows. All of those things get bigger and bigger. The rent is not relative to the size of the house. Keep it to a modest, moderate size. 1,500 or 1,600 square feet is a really good size.
One last thing is to play by the rules. Know your rights as a landlord, know your tenant's rights, do everything according to the laws in your state. Know what the law says and abide by it.