ONE repair you should always look for: It'll cost you if you don't
Who says late night TV isn't good for you?
For Thomas…it's turned him into a successful real estate investor. 10 years ago, he was intrigued by a late night infomercial and after reading a couple books…
He was hooked on real estate investing and jumped right in!
Thomas was successful from the start. In fact, he still owns and rents out the very first property he purchased. But in truth, it hasn't always been a easy road…
Thomas took out 4 different loans for 4 different properties…at the same time. A mortgage broker encouraged this move, but it only put Thomas between a rock and a hard place.
He ended up losing all 4 houses because he wasn't able to get them rented to cover the mortgages every month. Ouch. Fortunately Thomas didn't lose any money, just a handful of investment properties and a hit to his credit.
He recently found a deal on MyHouseDeals at a great price. But it's a good thing Thomas always plans for a 20% profit… He got hit with a costly surprise that he did NOT see coming!
Listen to our conversation with Thomas to hear more about the surprise repair, lessons learned as a real estate investor, and his tips for new investors plus…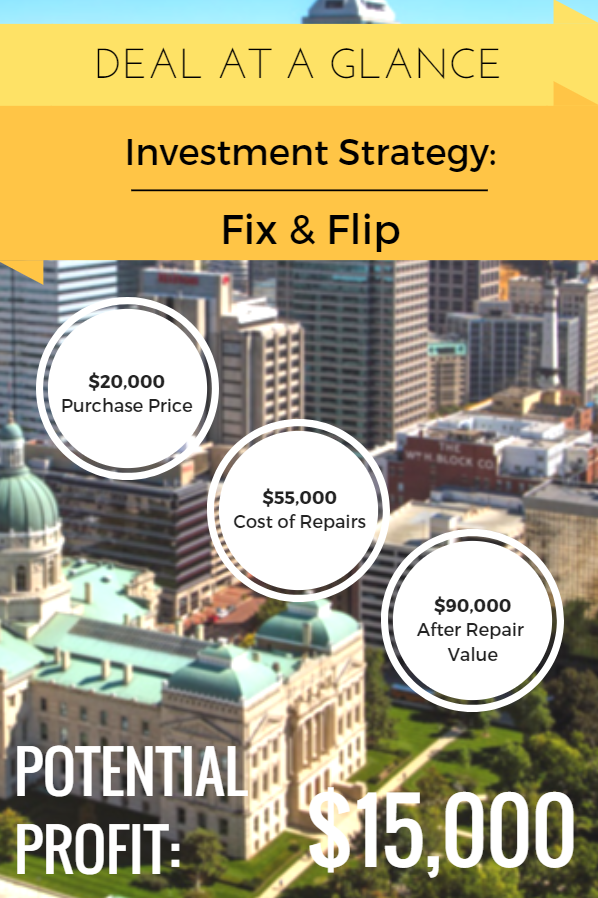 MyHouseDeals.com Success Stories
Why you should always aim for a 20% profit on fix & flips
How to prepare yourself financially to get started in REI
Exactly what makes a property in a "good area"
NOTE: Thomas is a premium member, he received a FULL refund of his upfront membership fee for simply doing a deal! Find out more about our premium membership here.

Tell us about yourself…
How did you get into real estate investing?
I started a little over 10 years ago. I got into investing by watching some night time shows and reading books, which sparked my interest. After that I decided to give it a go. My first property was a rental and every now and then I would take on a new property, either keeping it as a rental or flipping it.
How did you educate yourself?
I went to a lot of seminars and through those I purchased my first property. I went out on a limb with that first purchase, but I decided to give it a try. I felt like I had enough money coming in to make the monthly payments myself if I needed to.
Ever since then I've attended a ton of seminars. There's also been a couple seminars where I've pay for additional information to try to learn more about how to do it the right way. It's worth it in my eyes.
What fears and hesitations have you had?
My first major concern was if my first property was going to get rented out.
I priced it appropriately, but getting it rented was my worry. It's been 10 years and it's still being rented. I've never had huge problems, but definitely stumbles along the way.
Do you have any tips for keeping a rental occupied?
I purchased my first deal from a hard money lender who had foreclosed on it from someone else. That allowed me get a rough estimate on what that property had been renting for.
I also did some research and compared it to other properties in the area. With those two things I was able to determine a good price for the rent.

Do you have any preferred strategies?
My goal with flips is to clear a 20% profit on the deal. I don't always clear that, but that's what I aim for. Compared to when I first started, I now look for properties in better areas even if it takes me longer to find something. As long as the numbers add up I'm okay with doing the deal.
What was it like using a hard money loan?
At first it seemed okay to me because I didn't know much about it. I understood that the interest rate was higher and my only fear was the timing because I knew I had 12 months to do the deal.
My plan with that property was not to refinance it, but to pay it off myself. My goal was to have enough money coming in to pay off the property in 12 months. Near the end of the 12 months I started panicking because I needed more time, but they extended my loan 6 more months. It wasn't as bad as I thought it was going to be.
I kept the hard money loan instead of refinancing to a traditional loan because I didn't want to owe anything on the property. I wanted to get it paid off. To me, by the time I got another loan and paid the fees it would be as much as the hard money loan, so I kept what I had.
Tell me more about the deal you just did on MyHouseDeals.
My deal isn't completely done yet, but I rehabbed the property and put it on the market last week.
I paid around $20K for the house and I was thinking we were going to put around $30K in it for repairs. We ended up putting close to $55K in it because of termite damage that we didn't see and it lacked good flooring.
This resulted in it taking longer to do than expected. I probably won't make the 20%, but I should make around 10-15%. If it doesn't sell for exactly what I want then I'm not going to reach that profit goal.
I've been taught to always set yourself up for a 20% profit. That way, if you take a bit less you're still going to make a decent amount.
What upsets have you had in your career?
Starting out I didn't have much guidance other than books or seminars. A mistake I've made is listening to a mortgage broker when I shouldn't of. He advised me to apply for 4 different loans at one time. Looking back I now know that he didn't care about me—he just wanted to close the deals…but I ended up purchasing 4 properties simultaneously.
I closed with 4 different title companies within a few days of each other so the banks wouldn't know what the other was doing. As result, I qualified for 4 loans when I should have only qualified for one.
I got these 4 properties when the market started going bad around 2007 and I wasn't able to keep them rented. I didn't have additional income to pay for the mortgages myself so I lost all of them. If you lose properties you can't borrow money, so I was left with having to pay cash for properties.
Now, I just try to pay with cash only. There's one property I flipped maybe 4 years ago that I ended up doing another hard money loan on. I got in and out of that one fast though, within a 6 month time frame.
How did you recover from losing those four properties?
Well it didn't hurt me because I got them with pretty much no money down, but it did hurt my credit. For some of the properties I lost, I actually got a couple thousand dollars back at the original closings. I didn't have enough skin in the game so I didn't lose anything huge. I just took a credit loss.
What advice would you give to a new investor?
You need to make sure that you do your due diligence. All of your numbers need to add up and you need to know exactly what you're paying for, for that property. Have a good idea of what the average days on the market are in that area so you know how long you'll hold if you're flipping.
If you're renting, make sure you know what the rent is going to be in that area on average. It's also very important to know if it's a decent area that people do want to live in. If the area has a good schools system it's that much easier to get it rented or sold.
Make sure you have the money you need to start out. It can set you back If you have to carry the note for a few months until you can find someone that wants it.
What advice do you have for selecting a property?
I would make sure that the house is functional and well-designed. You want all the rooms to flow and not be awkward. I've seen places where you have to walk through a bedroom to reach the kitchen. In those houses you might get away with being able to rent it, but I don't think you could sell it.